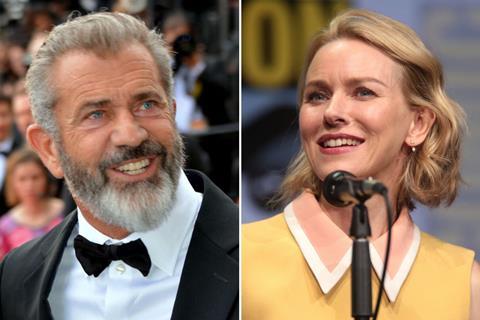 Highland Film Group has unveiled a slew of key deals on Joe Carnahan action title Boss Level, which has wrapped principal photography in Atlanta and stars Mel Gibson, Naomi Watts and Frank Grillo.
Deals have closed in: Germany (Universum), France (Metropolitan), Scandinavia (Nordisk), Middle East (Eagle Films), Spain (You Planet), and Eastern Europe (ProRom, Blitz).
Rights have gone in CIS (Volga), Poland (Monolith), Indonesia (Prima Cinema), Thailand (Mono Film), Portugal (Cinemundo), Israel (Forum), India (Tanweer), Iceland (Sam Film), and Greece (Odeon). HBO took pan-Asian TV.
Entertainment Studios recently acquired the film for the US and plans a 2019 theatrical release. Endeavor Content represents Chinese rights.
The Fyzz and Emmett/Furla/Oasis are financing and Randall Emmett and George Furla are producing the story of a Special Forces operative (Grillo) who learns about a sinister government programme after he gets trapped in a time loop.
Annabelle Wallis, Will Sasso and Michelle Yeoh round out the key cast. The Borey brothers wrote the screenplay.
Boss Level is a co-production by Emmett/Furla/Oasis Films, Carnahan and Grillo's War Party, and Scott Free. Wayne Marc Godfrey and Robert Jones from The Fyzz, Jules Daly, and Arianne Fraser and Delphine Perrier from Highland Film Group serve as executive producers.
The Highland Film Group sales slate includes its remake of The Crow directed by Corin Hardy; Michael Cristofer's The Night Clerk starring Tye Sheridan; Berlin, I Love You with Helen Mirren, Keira Knightley, Jim Sturgess, Mickey Rourke, Diego Luna, and Jenna Dewan Tatum; and Vaughn Stein's Terminal starring Margot Robbie.