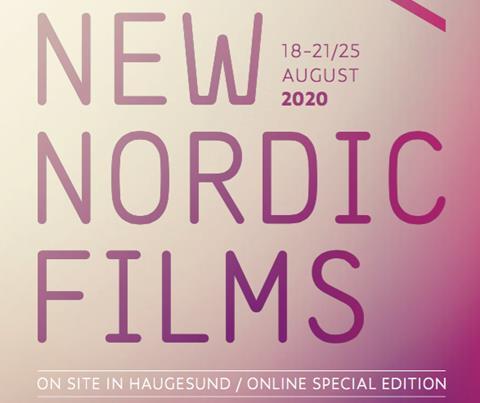 Isabella Eklof, the Danish director of Sundance 2018 selection Holiday and co-writer of Cannes 2018 award-winner Border, is presenting her new feature project Kalak as part of Haugesund's New Nordic Films Co-Production Market (August 18-21).
This year's hybrid event will see with some participants physically attend the event in Norway and others watching online films and presentations.
Scroll down for the full list
Kalak is Eklof's second feature and is set in Greenland. It is about a man who tries to escape the demons of childhood abuse through casual sex while his stoic little girl struggles to stick by her vain and narcissistic father. Eklof has co-written the screenplay with Kim Leine. It is being produced by Maria Møller Kjeldgaard for Manna Film. Backers include Danish Film Institute, DR, Scanbox, Swedish Film Institute, SVT, Mer Film Distribution and the government of Greenland, the newly formed Polarama Greenland, is co-producing.. The shoot is planned to start in March 2021.
Further feature projects to be presented in the Co-Production Market include Icelandic drama Loss, to be co-directed by Ari Alexander Ergis Magnusson and Fridrik Thor Fridriksson. The story is about am old man haunted by memories of everything his has lost. Emily Atef (3 Days in Quiberon) will present her new film Mister, planned as a France-Germany-Luexembourg-Norway production.
There are also 16 works in progress being presented, including Thomas Daneskov's midlife crisis story Wild Men, from The Guilty producer Lina Flint; Nuummioq director Torben Bech's Texas-set drama Beautiful Land; Icelandic director Tinna Hrafnsdóttir's debut feature Quake, and Marja Pyykkö's Sihja, an eco-themed children's film about a boy who meets an unconventional fairy.
"We are proud to still present such a strong and varied programme, which reflects the high quality of film work currently being done in the Nordic countries." said New Nordic Films head Gyda Velvin Myklebust. "These four days will allow attendees to watch new Nordic films in our market through our New Nordic Films Cinando VL, and enjoy presentations of projects still in production or in development stages either in Haugesund or online."
One of the works in progress will win the Eurimages Lab Project Award, decided by a jury of Cia Edstrom, Svend Bolstad Jensen, and Nino Kirtadze.
The market will also screen 10 graduation films from the Nordic film schools.
New Nordic Films Works in Progress 2020
Anatolian Leopard (Tur-Den-Ger-Pol)
Dir: Emre Kayiş
Backyard Village (Ice)
Dir: Marteinn Thorsson (Ice)
Band: This Is Not a Band (Ice)
Dir: Alfrun Ornolfsdottir
Beautiful Land (working title) (US-Nor-Den)
Dir: Torben Bech
A Blind Man Who Did Not Want To See Titanic (Fin)
Dir: Teemu Nikki
Excess Will Save Us-The Movie (Swe)
Dir: Morgane Dziurla-Petit
The Food Club (Den)
Dir: Barbara Topsoe-Rothenborg
No Man's Land (Nor)
Dir: Ali Parandian
The Penultimate (Den)
Dir: Jonas Kærup Hjort
Quake (Ice)
Dir: Tinna Hrafnsdóttir
Shall I Compare You To A Summer's Day? (Ger-Egy)
Dir: Mohammad Shawky Hassan
Sihja (Fin-Neth-Nor)
Dir: Marja Pyykkö
Sputum (Neth)
Dir: Dan Geesin
Stand Up – Kill it or Die (Fin)
Dir: Reetta Aalto
Wild Men (Den-Nor)
Dir: Thomas Daneskov
Wood And Water (Ger-Den-HK)
Dir Jonas Bak
New Nordic Films Co-Production Market 2020
Cop Secret (Ice)
Dir Hannes Þór Halldórsson
Dogborn (Swe)
Dir: Isabella Carbonell
Friday (Fin)
Dir: Alli Haapasalo
Kalak (Den)
Dir: Isabella Eklof
Loss (Ice)
Dirs: Ari Alexander Ergis Magnusson, Fridrik Thor Fridriksson
Malecon (Nor)
Di:r Jan Vardøen
Mister (Fr-Ger-Lux-Nor)
Dir: Emily Atef
Norwegian Dream (Nor-Pol)
Dir: Leiv Igor Devold
Ravengirl (Nor)
Dir: Christian Lo
Resistance (Nor)
Dirs: Dalia Huerta Cano, Caj Cojoc
Room For Travelers (Swe)
Dir: Asa Kalmer
The Scars Of Ali Boulala (Swe-Nor)
Dir: Max Eriksson
Snot And Splash (Fin)
Dir: Teemu Nikki
The Squirrel (Fin)
Dir: Markus Lehmusruusu
Tiger Martindale's Survival Experts (Lat)
Dir: Sergei Serphuov
Tuesday Club (Swe)
Dir: Annika Appelin