A damning study released on Monday by the University Of Southern California has added fuel to the fire in the ongoing diversity furore, highlighting a paucity of opportunity for females, non-white ethnic groups and members of the LGBT community.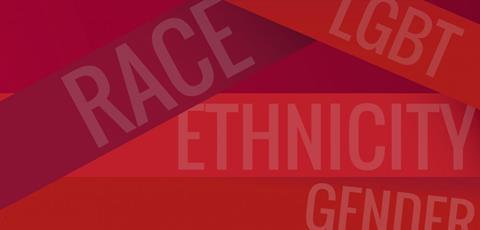 Inclusion Or Invisibility?, a 27-page report by the Annenberg School for Communication and Journalism's Media, Diversity & Social Change Initiative, examined the status quo in front of and behind the camera in film, TV and digital platforms, and took the pulse of senior executives at 10 major companies.
The study analysed data from 2014 and found, among other things, that males accounted for 71.3% of all speaking roles in film, that only two directors from a pool of 407 were female and non-white, and that females over 40 were "largely invisible" in entertainment.
Furthermore an inclusivity scorecard of the six US majors found that none passed the test, compared to more positive results by digital giants Amazon and Hulu.
The conclusion by study authors Stacy Smith PhD, Marc Choueiti, and Katherine Pieper Phd (who led the research with assistance from Ariana Case and Artur Tofan) could not be more emphatic.
"Across each of these indicators [of representation of gender, ethnic group and stated sexuality across all platforms]," they said, "the evidence points to the reality that has drawn public notice and vocal response: Hollywood has a diversity problem."
The first Comprehensive Annenberg report on diversity in entertainment (CARD) took one year to research.
The team considered 414 stories (including 109 films) distributed by 10 companies across film, TV and digital platforms, and looked at 11,306 speaking characters, more than 10,000 people working behind the cameras and more than 1,500 employees.
Films were only included if they grossed at least $7.5m through a major studio or $1m through a studio's art house division. Grosses were gathered via Box Office Mojo and confirmed through Studio System and/or IMDb Pro.
Titles included Guardians Of The Galaxy, Selma, The Fault In Our Stars, Penguins Of Madagascar, Whiplash, 22 Jump Street, Non-Stop, Inherent Vice, Love Is Strange, A Walk Among The Tombstones, The Theory Of Everything, and The Grand Budapest Hotel.
The companies considered were 21st Century Fox, CBS, Comcast NBC Universal, Sony, The Walt Disney Company, Time Warner, Viacom, Amazon, Hulu, and Netflix.
It should be noted the study did not look at producers or production companies, reality TV or talk shows, or series beyond the first episode.
A sample of findings appears below. For the complete study click here:
GENDER
A survey of 11,306 speaking characters found a 2:1 male-female ratio with males accounting for 71.3% of all roles;
73.5% of lead characters, co-leads or characters carrying an ensemble were male. The male portion in streaming services was 55.8%;
Males accounted for 78.6% of roles for actors over 40 in film, compared to 73.1% in broadcast, 70.6% in cable and 66.9% in streaming; and
There was stronger sexualisation of women than men, while women more likely to be scantily clad in non-film platforms.
Behind the camera
Males accounted for 84.8% of directors from a pool of 4,284 across 305 scripted series and 109 films;
Of 6,421 writers across all platforms, 71.1% were male; and
Stories with a female director across all platforms corresponded to a 38.5% portion of female characters, a 16% climb on stories without female directors where there were 33.1% female characters.
EXECUTIVE SUITE
Women represent approximately 20% ofboards, CEOs and executive management teams. In film, top female executives represent 25.6%, compared to 21.5% in TV and 20% in streaming.
RACE / ETHNICITY
Across all platforms 71.7% of on-screen talent were white, 12.2% black, 5.8% Hispanic, 5.1% Asian, 2.3% Middle Eastern, and 3.1% other;
This means 28.3% of all speaking characters hail from underrepresented racial/ethnic groups, which is 33% or 9.6 percentage points below the proportion in the US population (37.9%);
Out of 109 films, 20 films or 18% had no black characters, while 55 or 50% had no Asian characters; and
Roughly 87% of 407 evaluated directors in film and TV were white. Of the underrepresented portion, only two were women: Amma Asante for Belle and Ava DuVernay for Selma.
SEXUALITY
Of the 11,194 characters on screen that could be coded for apparent sexuality, 224 were coded as lesbian (49), gay (158), or bisexual (17);
This means 2% of characters from 414 films and TV and digital shows were LGB compared to 3.5% of the US population that publicly identifies as LGB as reported by the Williams Institute at UCLA; and
Only seven speaking or named characters identified as transgender; less than 0.1% of the entire sample. Four appeared in the same digital show and all but one were in streaming series.
COMPANY INCLUSION
Studios, TV and digital companies were graded according to various metrics assessing gender, racial and sexuality representation in front of and behind the camera. The report said: "All conglomerates fail with regard to inclusivity of girls and women.";
Every studio earned a failing score on inclusivity. Of 30 tests conducted (character inclusion, percentage of female writers and directors, etc), 80% produced a 'Not Inclusive' rank and only two merited a 'Fully Inclusive' designation: Sony and Viacom (Paramount) for films like About Last Night, Think Like A Man Too, Selma and Top Five; and
Amazon and Hulu each scored 'Fully Inclusive' designations in several categories and scored points for their inclusivity of women (for Amazon it was not just for Transparent creator Jill Soloway but the hiring of a female director across multiple episodes of animated series Wishenpoof!). Netflix only earned one 'Largely Inclusive' designation.
CONCLUSION AND ACTION POINTS
Concluding that the film industry "still functions as a straight, white, boy's [sic] club", the study authors proposed several action points:

The establishment of public and transparent inclusion targets;
the establishment of inclusive consideration lists for writers and directors;
an overhaul of "stereotypical thinking";
checks and balances in review of qualifications and storytelling decisions;
evidence of financial performance of content with female or under-represented leads and/or directors; and
ongoing progress monitoring.