An Inconvenient Sequel team respond to US withdrawal from Paris deal. Bob Iger resigns from White House advisory council.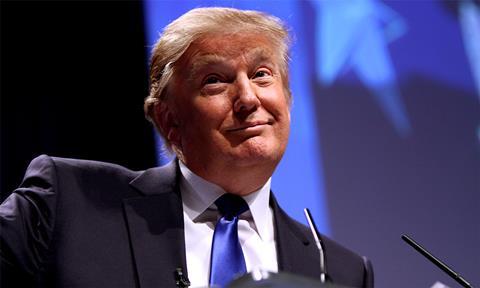 Al Gore, the former US vice-president and figurehead of the upcoming documentary An Inconvenient Sequel, David Linde, CEO of the film's producer Participant Media, and directors Bonni Cohen and Jon Shenk have lambasted US president Donald Trump's decision to exit the Paris climate deal.
Meanwhile Disney CEO Bob Iger tweeted he was stepping down from the President's Strategic and Policy Forum "as a matter of principle."
The responses came after Trump on Thursday pulled the US out of the voluntary pact agreed in late 2015 to cap greenhouse gas emissions. Trump said the deal would damage the US economy and added he might renegotiate a "better deal" for the country, although the validity of the latter claim was challenged by several countries.
'Reckless and indefensible'
"Removing the United States from the Paris Agreement is a reckless and indefensible action," Gore said.
"It undermines America's standing in the world and threatens to damage humanity's ability to solve the climate crisis in time. But make no mistake: if President Trump won't lead, the American people will.
"Civic leaders, mayors, governors, CEOs, investors and the majority of the business community will take up this challenge. We are in the middle of a clean energy revolution that no single person or group can stop. President Trump's decision is profoundly in conflict with what the majority of Americans want from our president; but no matter what he does, we will ensure that our inevitable transition to a clean energy economy continues."
Linde issued a statement that read: "Removing the United States from the Paris Agreement is a blow to our collective ability to fight the climate crisis in time.
"But there is an incredible momentum towards solutions to the climate crisis – new technologies exist and are being deployed, overwhelming public support exists for climate action, markets are rewarding clean energy, and of course, global political leaders outside the U.S. will maintain their course under the Paris Agreement."
Linde concluded: "No matter what happens, our job is to keep the momentum moving forward as quickly as we can, regardless of what stands in our path."
Hollywood dissent
Other members of the entertainment industry voiced their concern about the withdrawal.
Leonardo DiCaprio, who has campaigned extensively for environmental causes, said: "Today, our planet suffered. It's more important than ever to take action."
Actor turned civil servant Kal Penn said: "It'll be great to see all the economic progress in blue states & cities that continue to embrace science & the Paris deal."
Regular Trump critic Michael Moore said: "America First! Earth Last!", then added: "My name is Michael Moore. I am an American. And I live in a Rogue State."
Netflix chat show host Chelsea Handler said: "The reason Trump is so torn about pulling out of the Paris Climate Accord is because 3 weeks ago he thought the Paris Accord was a car."
Actress Bette Midler said: "Short-sighted #DonaldTrump quits Climate Accords. Think of all the time effort & money poured into this & he bails giving BigOil a windfall."
US goes it alone
Trump said earlier this week he would announce his decision on the future of US involvement in the Paris climate deal, whereby signatory countries agreed to emissions caps in an effort to keep the rise in global temperatures to less than 2C. Starting in 2023, the countries plan to reconvene every five years to discuss targets. The deal is not legally binding.
The US is the world's second largest creator of greenhouse gases behind China, which has said it remains committed to an international mandate to reduce global warming. The US now joins Syria and Nicaragua as the only countries that are not aligned with these efforts.
On Thursday Trump told reporters at the White House: "In order to fulfil my solemn duty to the United States and its citizens, the US will withdraw from the Paris climate accord, but begin negotiations to re-enter either the Paris accords or a really entirely new transaction, on terms that are fair to the United States.

"We will start to negotiate, and we will see if we can make a deal that's fair. If we can, that's great. If we can't, that's fine."
Trump added the accord would undermine the US economy, threaten jobs and place the US at a disadvantage to other countries.
The US president has famously said he believed man-made climate change is a hoax, however he did not address that point in Thursday's statement.
An Inconvenient Sequel directors Bonni Cohen and Jon Shenk said:"We were shocked and disappointed to hear President Trump's announcement today regarding withdrawing the U.S. from the historic international deal reached in Paris. In our new film, An Inconvenient Sequel: Truth To Power we filmed behind-the-scenes in Paris to show the hard work, finesse, and passion that went into making the agreement happen.

"We hope that the hard work of those who made the deal happen will not be in vain. The good news is that there is a great deal to be hopeful about. The technology exists to create enough clean energy for the world economy and to avoid total climate catastrophe. Now that President Trump is pledging to do less to keep America's commitment to the world, we must all step up to do more to ensure the health of our planet."
Paramount will release An Inconvenient Sequel on July 28. Its predecessor An Inconvenient Truth grossed $49.8m worldwide following its release in May 2006 and won the best documentary Oscar.