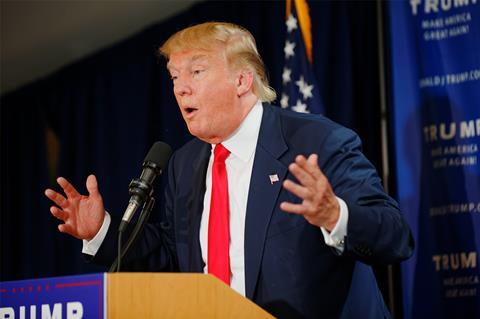 Over the weekend NFL players knelt and locked arms during the US national anthem in protest over inflammatory comments by president Donald Trump.
During a speech on Friday, Trump called players who kneel during the US national anthem as a protest against civil rights abuses "sons of bitches" and said players who didn't stand should be fired.
The comments prompted a widespread 'take the knee' protest from the NFL, with many figures from the entertainment world reacting on Twitter to another turbulent few days in American politics.
The reaction:
Praising neo-Nazis as "some very good people". https://t.co/Eps4p7hVcd

— Mark Hamill (@HamillHimself) September 24, 2017
"How do we handle impending threat of nuclear war with North Korea?"
"By getting these athletes to stand up!!!"

— Kumail Nanjiani (@kumailn) September 23, 2017
'Privilege.' Some people don't get given millions by Daddy, Donnie. They actually earn it. https://t.co/rmKataLLQX

— J.K. Rowling (@jk_rowling) September 23, 2017
Typical sentiment of a man who has probably never experienced social injustice to think that money should assuage the sting. https://t.co/q1o6pytQeU

— Chris Evans (@ChrisEvans) September 25, 2017
During my Broadway show today, the audience joined w/ me and together we stood in solidarity with the NFL players protesting Trump & owners pic.twitter.com/AFkVSrpHXW

— Michael Moore (@MMFlint) September 24, 2017
#Liberals applaud spoiled #NFL millionaires sitting on their asses during national anthem, while Berkeley cancels Free Speech Week... #irony

— James Woods (@RealJamesWoods) September 24, 2017
When #TakeaKnee is a greater form of respect for the promise of America then standing aside for racism. #TakeAKnee for the GRACE of USA. https://t.co/FJ7gGuD8at

— Mark Ruffalo (@MarkRuffalo) September 25, 2017
As a football fan, I am proud of the NFL players today. Nothing is more American than the right to peacefully protest.

— Ellen DeGeneres (@TheEllenShow) September 24, 2017
Suckers for the big lie, these overpaid dumbasses are an embarrassment to their country, their families & themselves https://t.co/3OmtQdLBJX

— Dinesh D'Souza (@DineshDSouza) September 25, 2017
Donald's base: Um... https://t.co/RXCy38xUJj

— Patton Oswalt (@pattonoswalt) September 24, 2017