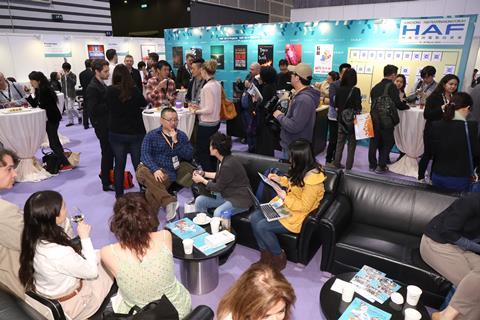 Hong Kong's two leading film industry events – Filmart and the Hong Kong Asia Film Financing Forum (HAF) – have confirmed that they will move online for this year's edition.
Filmart Online will take place August 26-29, with HAF running concurrently but one day shorter from August 26-28.
Hong Kong is now mostly free of the Covid-19 coronavirus that has brought the world to a standstill, but many cities and countries in the region and further afield are still on lockdown or have border restrictions and quarantine measures in place. Hong Kong's government recently extended quarantine for overseas visitors to Hong Kong to September 18.
In addition, Beijing has been forced to re-introduce a partial lockdown after the emergence of a new cluster of Covid-19 infection cases, all linked to a wholesale food market in the west of the city.
In a statement, Filmart organisers said: "We all recognise the importance of maintaining entertainment market business momentum, amid delayed productions, closed theatres and altered audience behaviour. So, as the largest content trading platform in Asia, Filmart Online will continue helping you to reinvigorate business."
The virtual event will enable sellers to showcase their slates on a dedicated company page, as well as stream trailers and videos with DRM encryption, individual watermark and time-limited screener authorisations.
It will also host a virtual meeting platform for buyers and sellers to connect, equipped with "high-quality video conferencing and a built-in messaging centre". A series of seminars, content showcases and other events is also being planned.
Meanwhile, HAF will partner with Filmart Online to facilitate virtual meetings for filmmakers of its selected projects.
"Travel restrictions and quarantine requirements imposed by many countries have made it impossible for HAF to provide a physical platform for participants to meet and discuss their projects this year," said HAF director Jacob Wong.
"Under such circumstances, going virtual is an appropriate way forward as the safety and well-being of our guests and filmmakers are of utmost importance."
HAF had previously shortlisted 32 projects for this year's edition, including projects from 11 first-time directors, and will announce an additional 22 work-in-progress projects (WIP) soon.