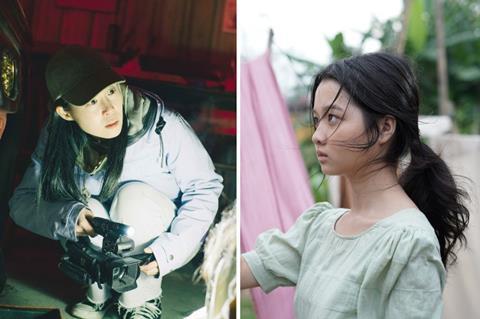 Asian horror films Incantation, The Ancestral and Pee Nak 3 have screamed to the top of the box office in Taiwan, Vietnam and Thailand respectively.
Kevin Ko's found-footage horror Incantation has held the top spot at the Taiwanese box office for two consecutive weekends. Starring Tsai Hsuan-yen, the story follow a family who commit senseless acts of torture and violence against each other while seemingly being possessed by demons.
Distributed by Activator Marketing, the film took $799,000 (NT$22.9m) on its opening weekend (March 18-20), followed by an unusual 45% increase on its second weekend. It has crossed $3.1m (NT$90m) as of March 30, making it the biggest Taiwanese film in 2022 to date.
In Vietnam, Le-Van Kiet's The Ancestral was released wide by CGV in 195 locations and 468 screens, taking $730,000 in its first weekend (March 18-20). It also held the top spot for a second weekend, making it the first Vietnamese horror film to lead the chart for two consecutive weekends. Its local box office has since reached $1.6m as of March 29.
The film centres on a widower and his two daughters as they move to an old house after suffering a family tragedy, only to discover long-buried secrets. Its release in May 2021 was postponed due to the closure of cinemas in Vietnam as a result of the Covid-19 pandemic. Venues began gradually reopening in November, with Hanoi being the last big city to reopen cinemas in February.
The Ancestral marks a second consecutive success for director Kiet, whose martial arts film Furie became one of Vietnam's highest grossing local films following its release in 2019.
Sequel success
Local horror films have also created a stir in Thailand. Phontharis Chotkijsadarsopon's horror comedy Pee Nak 3 debuted strongly on its opening day (March 17), taking $418,500 (14m baht), the highest for the Pee Nak franchise to date. It led the box office crown that weekend and had reached $2.1m (70m baht) by March 30.
The film centres on a young gravedigger who unearths an ancient golden anklet, which triggers a curse that causes him to develop snake scales all over his body. The first two films in the franchise were also directed by Phontharis ranked as the top Thai horror comedy titles of 2019 and 2020. All three films are produced and distributed by Five Star Production.
It is understood that another Thai horror comedy, Haunted Universities 2nd Semester, topped the Thai box office last weekend (Mar 24-27), but box office figures have not been made available by producer and distributor Sahamongkolfilm International.
The omnibus film, which tells three ghost stories all set on a university campus, was directed by Pattaraporn Werasakwong, Eakarpon Settasuk and Jatuphong Rungrueangdechaphat.
Horror films featuring creaturs from traditional folklore carry a long tradition in Asia. With modest budgets and lucrative box office potential, they continue to be popular among local audiences and can often cross borders and find both regional and international distribution.
Endeavor-owned WME has closed a raft of deals for The Ancestral, including the Middle East, Australia, New Zealand, Taiwan and Southeast Asia, while Five Star has sold Pee Nak 3 to a dozen territories including Southeast Asia, Hong Kong and Taiwan.