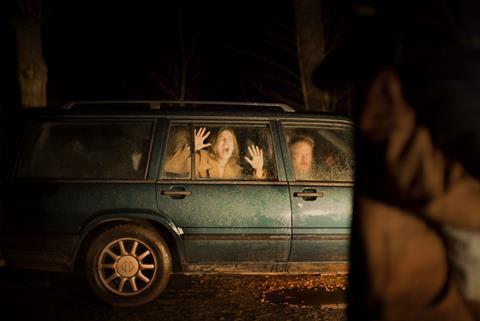 Goteborg's industry activities attracted a record 734 delegates for the Nordic Film Market and 566 for TV Drama Vision, from across 46 countries. Like the festival, the industry programme was held online for the first time this year due to the pandemic.
One hot film project being pitched at script stage was Stranger, which unites Danish production company Motor with Poland's Opus Film (Ida). Mads Hedegaard will make his fictional feature directorial debut with the film, which he co-writes with Jesper Fink (Margrete-Queen Of The North). Stranger is set in the Stone Age 6,000 years ago, when migrant farmers started to replace hunter-gatherers. When a 16-year-old girl, Aathi, arrives in what is now Denmark, local hunters kill her family and she has to try to survive in this brutal world. The film is set to shoot in summer 2022. The Danish Film Institute is backing the film, which Scanbox will distribute in the Nordics. The team are now seeking additional financing and a sales company.
Other notable projects in Discovery included Elle Sofe Sara's musical Arru, about a Sami single mother confronting her painful past; Norway's Mer Film produces. Swedish director Ernst De Geer's Hypnosis, produced by Garagefilm, has a hooky premise: a woman tries hypnosis to quit smoking but it causes her to lose all social inhibitions, wreaking havoc in her romantic relationship and business.
Goteborg's Works In Progress unveiled first footage from anticipated projects from established directors such as Erik Poppe's The Emigrants, Bille August's The Pact and Charlotte Sieling's Margrete – Queen Of The North. From newcomers, hot works in progress included Clara Sola, a drama about a Costa Rican healer's self-discovery, by Sweden's Nathalie Álvarez Mesén; and 1800s-set drama Night Of Dying by Denmark's Tea Lindeburg.
Another work in progress attracting attention was Speak No Evil from Denmark. Christian Tafdrup (Parents, A Horrible Woman) offers a drama blended with genre elements as well as social satire, in the story of a Danish family who goes to visit a Dutch family they met on a summer holiday; things get out of hand during their weekend together. Jacob Jarek of Profile Pictures produces and TrustNordisk handles sales.
Goteborg also offered closed market screenings online for buyers and programmers, including films such as Ninja Thyberg's Sundance premiere Pleasure and Any Day Now by Finland's Hamy Ramezan, which will screen at Berlinale Generation.
Scandinavian producers Thomas Gammeltoft, Sofie Wanting Hassing and Ole Søndberg announced in a Goteborg session that they are joining forces to launch TrueContent Entertainment, a production and distribution company based in Copenhagen. The outfit is a reboot of Wanting Hassing's digital distribution company Sweet Chili Entertainment, which Gammeltoft had recently joined. Following the original United Artists model, TrueContent will be let talent co-own IP. The outfit will work across features and series, and talents already recruited to collaborate include Hans Petter Moland, Kim Fupz Aakeson, Mads Brügger, Nikolaj Scherfig, Ivica Zubak, Tony Grisoni, Bo Lindegaard and Karen Stokkendal Poulsen.
At TV Drama Vision, the major Nordic broadcasters teased their forthcoming slates. Speakers included director Susanne Bier, Guy Bisson of Ampere Analysis, Walter Iuzzolino of Walter Presents and HBO Nordic's Christian Wikander.
The winner of the Nordisk Film & TV Fond Prize at TV Drama Vision was Maja Jul Larsen for Cry Wolf, from Denmark's DR.