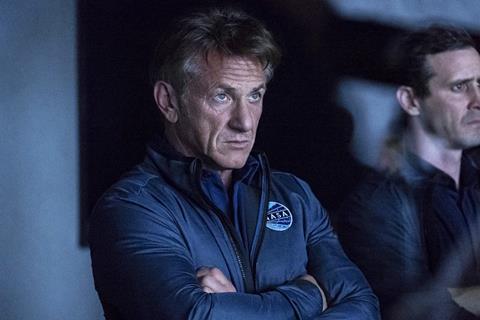 For a show about a pioneering mission to Mars, The First spends a surprising amount of time on the ground. In fact, it's not until the eighth and final episode of the first season that the near-future drama finally gets its crew off on the long trip to the red planet.
As series creator, writer and executive producer Beau Willimon sees it, though, the earthbound build-up was a necessary part of the show's dramatic arc.
"We really felt it was important to see how hard it is to get to the starting line," says Willimon of the series, which dropped in the US this week on streaming service Hulu and debuts on UK broadcast network Channel 4 sometime in October.
Getting into space earlier in the season "would have been a safer way to go," Willimon concedes, "because you would have been scratching that itch that many people might have of wanting to see the space exploration part from the get go. But I wanted to make sure we were invested in these characters" - among them a veteran mission commander played by Sean Penn and an aerospace magnate played by Natascha McElhone - "and understood the context of their stories before we sent them on their way."
The character-driven approach is what you might expect from Willimon, who started in theatre (his best known play is political drama Farragut North), edged into film (he was one of the writers on the George Clooney's feature version of Farragut, The Ides Of March) and arrived on Hollywood's TV A-list as creator of the US version of House Of Cards (on which he was also showrunner for the first four seasons).
But it's also an approach that must have given potential backers of the series – which ended up with a reported budget of $55m - pause for thought.
Jordan Tappis, Willimon's fellow executive producer and partner in their Westward Productions company, confirms that there was "an open conversation" with Hulu and Channel 4 (which backed the series with AG Studios, with Endeavor Content brought in to handle international sales) about the execution of the first season. Ultimately, however, "we found ourselves with really supportive partners," says Tappis, "who understood the vision from the beginning and supported it from the beginning."
Working with Penn
Any buyer concerns would have been eased, of course, by the involvement of Penn, who gets plenty of screen time in his first regular starring role in a TV series.
Willimon says he and Tappis were originally told Penn was unavailable for the series, but that when they got scripts to the famously intense and committed actor-director "he responded really well. And that led to a series of meetings where we discussed the show at length, what I wanted to do, what he was interested in, and eventually he came on board."
Penn, Willimon reports, "was very involved – as were a lot of the rest of the cast – in helping shape the characters and the story."
A quietly intense presence himself, Willimon says his focus is currently all on The First and Mary Queen of Scots, the Saoirse Ronan historical feature, due for a December release, that he scripted for Working Title and director Josie Rourke.
Not having been involved with the series since the end of its fourth season, Willimon declines to comment on the fate of House Of Cards, the sixth and final season of which hits Netflix in November, with Robin Wright starring but without Kevin Spacey, who was fired from the show last autumn after allegations of sexual misconduct.
Neither will Willimon talk about future projects, though he does drop vague hints about a second season of The First, should one be ordered.
Unlike the first season, "you'll see plenty of space and Mars," he promises, "but you'll also have the opportunity to see parallel stories on earth, because we've invested a lot of time there."
A story following both the crew in space and the people they've left behind on earth "leads to really interesting narrative questions," he says. And the resulting narrative structure, he points out, would reflect the reality of an actual Mars mission, "which hopefully will happen in our lifetimes.
"You'll have a crew that is farther from this planet than any human beings have ever been in the history of humanity and yet there will be a certain intimacy to that because we'll all be following what they're doing. They'll be, in a way, two completely different realities – but they'll be deeply connected to one another."
If a second season order doesn't come through, then the creator and executive producer of The First will just have to accept the consequences of the creative risk they took by setting the first season almost entirely on the blue planet rather than the red.
"We're putting all our eggs in one basket," admits Willimon, "just as a trip to Mars does."