The organisation is heavily backing the next film from the Oscar-winning Son Of Saul director.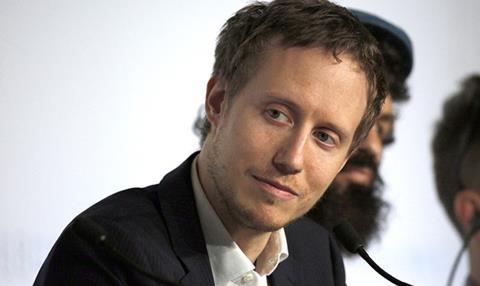 The Hungarian Film Fund is to input €5m into Sunset, the new film from Laszlo Nemes [pictured], the Oscar winning director of Son Of Saul.
"It is again a huge Hungarian production, a period film that takes place at the beginning of the Twentieth Century," Hungarian Film Fund CEO Agnes Hava said of the €8.5m film which will be 90% financed out of Hungary, with 10% coming from France. Written and directed by Nemes, the project is produced by Gabor Sipos and Gabor Rajna through Laokoon Filmgroup.
Sunset is set in Budapest in 1915. It tells the story of Iris, a young woman who leaves the orphanage where she was raised to become a seamstress. With plans of immigrating to New York City, she heads to a ladies' hat store which once belonged to her late parents and is now run by their former associate, Oszkar.
Sunset is being sold and co-produced by French outfit Films Distribution. The project is in pre-production and due to shoot in the spring.
The move to support Sunset comes as the Fund has had its budget increased and is looking to ramp up further. The Fund's budget for grants for 2017 is now at €20m, up from the old figure of €18m. The money comes both from Lottery No.6 and directly from the government.
The Fund invested €7m in horse-racing drama Kincsem. Other big budget films to be released this year include Budapest Noir and The Whisky Robber.
The Fund has also now taken over the operation of the Hungarian National Film Archive with its collection of more than 70,000 titles. The Archive celebrates its 60th anniversary this year and is embarking on a major national film restoration and digitisation programme.
As a first step, in 2017 fifteen Hungarian film classics are going to be remastered digitally in 4K. These include selected works of director Zoltan Fabri, born 100 years ago this year.
The digitally restored films will be distributed both nationally and internationally. In advance of this programme, certain titles in the collection have already been restored, among them Michael Curtiz's 1914 movie The Undesirable, The Round-Up by Miklos Jancso and Love by Karoly Makk.
Hungary is out in force at the Berlinale. Ildikó Enyedi's new romantic melodrama On Body And Soul, which is supported by the Fund and sold by Films Boutique, is in competition.
Another film backed by the Fund, 1945 by Ferenc Török, a black and white drama set in a small village just after the Second World War, is screening in Panorama. The film is sold by the Hungarian Film Fund's sales arm with Menemsha looking after North American sales.
Local market share in Hungary in 2016 was relatively low, at around 5%.
However, with 18 new Hungarian films due in cinemas in 2017, that number is expected to rise. Meanwhile, Hungary, with its 25% cash rebate, is continuing to attract foreign film production. Such high profile projects as Blade Runner 2049, Inferno and The Martian have shot there in recent years.
As of January 2017, the Fund has granted production funding for 75 projects, including 22 international co-productions, several debut features and documentaries.