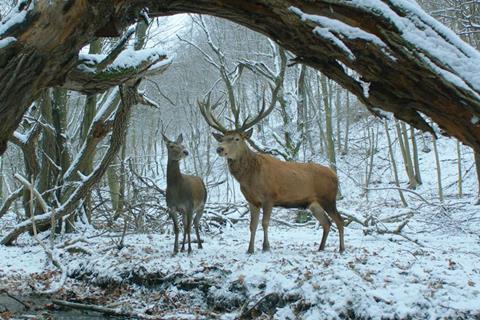 Hungarian National Film Fund director Ágnes Havas has told Screen how a new generation of women directors is fuelling the ongoing revival of the Hungarian film industry.
Havas, in Berlin to meet industry delegates, highlighted several films by women in the pipeline, buoyed by a 10-year high market share that is close to 10% after tripling in the last decade, and the country's recent Oscar nomination for Ildikó Enyedi's Golden Bear winner On Body And Soul.
Enyedi's follow-up The Story Of My Wife starring Léa Seydoux is in advanced stages with support from M&M Films, (Hungary) Komplizen Film (Germany), Pyramide Productions, (France), and Dorje Film (Italy).
Krisztina Goda's Hungarian remake of Italian box office hit Perfect Strangers is due to begin shooting in April with €1.1m support from the Fund.
Ágnes Kocsis' Eden is shooting and received €1.4m Fund backing, while Cecila Felmeri's debut feature, Spiral, filming in Hungary from February, stars EFA Best Actress Award winner Alexandra Borbély from On Body And Soul.
"The Hungarian film supporting system is stabilised, the support is continuous and reliable," Havas said of the ongoing renaissance in the Hungarian film industry, underlined by the Oscar success of Son Of Saul and box office performance of period adventure drama Kincsem – Bet On Revenge which last year posted more than 450,000 admissions in the strongest performance by a local film in more than a decade.
Three new Hungarian films are screening at the EFM: The Butcher, The Whore And The One-Eyed Man by János Szász; The Whiskey Bandit from Nimród Antal; and Budapest Noir from Éva Gárdos.
Among other Hungarian films in Berlin, The new film by Árpád Bogdán, Genesis, is a premiere in Berlinale Panorama Special, while Ildikó Enyedi's Cannes Camera d'or winner My 20th Century screens as part of Berlinale Classics.
Meanwhile there are high expectations for László Nemes' Son Of Saul follow-up Sunset (handled in the market by Playtime), which received €5.1m support from the Fund and is expected to be ready by the summer.
Hungary is also attracting its share of international productions, among them Jennifer Lawrence starrer Red Sparrow, Netflix's Mudbound, and Gemini Man.