Feng Xiaogang's comedy won best film, actress and cinematography, while The Handmaiden picked up four awards.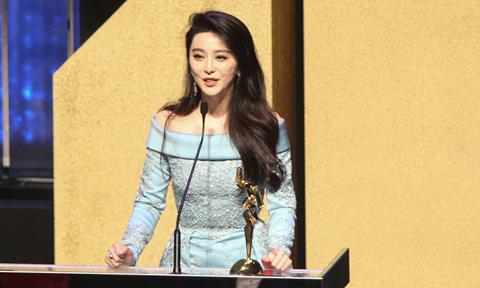 Scroll down for full list of winners
Feng Xiaogang's I Am Not Madame Bovary won best film, best actress for Fan Bingbing [pictured accepting her award] and best cinematography at the Asian Film Awards in Hong Kong on Tuesday night (March 21).
Fan plays a rural woman battling the authorities to restore her honour in the comedy-drama, produced by Feng's Dongyang Mayla, Sparkle Roll Media and Huayi Brothers. Luo Pan was awarded best cinematography for the film, which was mostly shot in a circular frame.
Park Chan-wook's The Handmaiden picked up the most awards of the evening – four in all, including best supporting actress for Moon So-ri and best newcomer for Kim Tae-ri. The erotic period drama was also awarded best production design (Ryu Seong-hie) and best costume design (Cho Sang-kyung).
Best director went to Korean filmmaker Na Hong-jing for supernatural horror film The Wailing, which like Park's The Handmaiden also premiered at Cannes in 2016.
Best actor went to Japan's Asano Tadanobu for Koji Fukada's Harmonium, while best supporting actor went to Lam Suet for Johnnie To's Trivisa.
Asghar Farhadi was awarded best screenplay for The Salesman, which won best foreign-language Oscar last month (see full list of winners below).
Jelly Lin, the mainland Chinese actress who starred in Stephen Chow's The Mermaid, picked up the Rising Star of Asia award, while the Excellence in Asian Cinema Award went to Hong Kong actress Sammi Cheng. The Lifetime Achievement Award went to veteran Hong Kong director Tsui Hark.
This year's Asian Film Awards were held at the Hong Kong Cultural Centre following several years in which the ceremony was held at the Venetian in Macau.
ASIAN FILM AWARDS 2017 FULL LIST OF WINNERS:
Best film – I Am Not Madame Bovary
Best director – NA Hong-jin, The Wailing
Best actress – FAN Bingbing, I Am Not Madame Bovary
Best actor – ASANO Tadanobu, Harmonium
Best supporting actress – MOON So-ri, The Handmaiden
Best supporting actor – LAM Suet, Trivisa
Best newcomer – KIM Tae-ri, The Handmaiden
Best screenplay – Asghar Farhadi, The Salesman
Best editing – Lee CHATAMETIKOOL & Natalie SOH, Apprentice
Best cinematography – LUO Pan, I Am Not Madame Bovary
Best original music – MOWG, The Age of Shadows
Best costume design – CHO Sang-kyung, The Handmaiden
Best production design – RYU Seong-hie, The Handmaiden
Best visual effects – OHYA Tesuo, Shin Godzilla
Best sound – FANG Tao & HAO Zhiyu, Crosscurrent
Rising Star of Asia – Jelly LIN
Excellence in Asia Cinema Award – Sammi CHENG
Lifetime Achievement Award – TSUI Hark