American Honey, Notes On Blindness, Adult Life Skills, Under The Shadow also score multiple noms.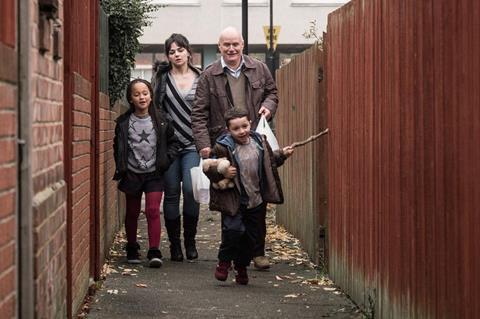 Ken Loach's I, Daniel Blake leads this year's British Independent Film Awards (BIFA) nominations, which were announced this morning by British actors Ophelia Lovibond and Douglas Booth in London.
Loach's timely social drama - which won Cannes' Palme d'Or earlier this year - was nominated in seven categories including Best British Independent Film, Best Director and Best Screenplay.
Co-stars Hayley Squires and Dave Johns are each nominated twice – for Best Actress and Best Actor and will also go head to head in the Most Promising Newcomer category.
The other nominees in the Best British Independent Film category are American Honey (six nominations), Couple in a Hole (two nominations), Notes on Blindness (six nominations) and the Under The Shadow (six nominations).
Other titles with receiving multiple nominations but in other categories included Adult Life Skills (six nominations) and zombie thriller The Girl With All The Gifts (four nominations).
BIFA organisers noted that 2016 was a particularly strong year for new talent in the acting categories.
Aside from I, Daniel Blake co-stars Squires and Johns, other newcomers receiving a nomination for the first time included Narges Rashidi (Under The Shadow) and Sasha Lane (American Honey). Jodie Whitaker (Adult Life Skills) and Kate Dickie (Couple In A Hole) have been nominated for Best Actress for the second time.
By contrast, nomination front-runners Loach and American Honey director Andrea Arnold, are nominated in the Best Director category for the fifth and fourth time respectively.
Loach previously one in Best Director category for My Name is Joe in 1998 and also picked up a Special Jury Prize for Wind That Shakes The Barley. Arnold previously won the Best Director BIFA for her 2009 film Fish Tank.
This year's Best International Independent Film category meanwhile features an eclectic group of nominees, comprising, Hunt For The Wilderpeople, Manchester By The Sea, Moonlight, Mustang and Toni Erdmann.
More than 130 British films were submitted for consideration and 32 different British feature films have been nominated across the awards.
As previously announced actress Naomie Harris will receive The Variety Award recognising a British director, actor, writer, or producer who has helped put the spotlight on the UK film industry.
She is also a nominee this year in Best Supporting Actress category for her performance in Our Kind of Traitor.
Past recipients of The Variety Award include Kate Winslet, Benedict Cumberbatch and Paul Greengrass.
The winners will be announced at the BIFA ceremony on Dec 4 at Old Billingsgate.
The BIFAs were founded by Elliot Grove and Suzanne Ballantyne in 1998 to reward the best innovative and creative film-making and film-makers in the UK.
Best British Independent Film
AMERICAN HONEY Andrea Arnold, Lars Knudsen, Jay Van Hoy, Pouya Shahbazian, Alice Weinberg, Thomas Benski, Lucas Ochoa
COUPLE IN A HOLE Tom Geens, Zorana Piggott
I, DANIEL BLAKE Ken Loach, Paul Laverty, Rebecca O'Brien
NOTES ON BLINDNESS Peter Middleton, James Spinney, Mike Brett, Jo-Jo Ellison, Steve Jamison, Alex Usborne
UNDER THE SHADOW Babak Anvari, Emily Leo, Oliver Roskill, Lucan Toh
Best Director
ANDREA ARNOLD American Honey
BABAK ANVARI Under the Shadow
BEN WHEATLEY Free Fire
KEN LOACH I, Daniel Blake
PETER MIDDLETON, JAMES SPINNEY, Notes on Blindness
Best Actress
HAYLEY SQUIRES I, Daniel Blake
JODIE WHITTAKER Adult Life Skills
KATE DICKIE Couple in a Hole
NARGES RASHIDI Under the Shadow
SASHA LANE American Honey
Best Actor
DAVE JOHNS I, Daniel Blake
MAX RECORDS I Am Not a Serial Killer
MICHAEL FASSBENDER Trespass Against Us
SHIA LABEOUF American Honey
STEVE BRANDON My Feral Heart
Best Screenplay
ANDREA ARNOLD American Honey
BABAK ANVARI Under the Shadow
BILLY O'BRIEN, CHRISTOPHER HYDE I Am Not a Serial Killer
PAUL LAVERTY I, Daniel Blake
RACHEL TUNNARD Adult Life Skills
Best International Independent Film
HUNT FOR THE WILDERPEOPLE Taika Waititi, Carthew Neal, Matt Noonan, Leanne Saunders
MANCHESTER BY THE SEA Kenneth Lonergan, Kimberly Steward, Matt Damon, Chris Moore, Lauren Beck, Kevin J. Walsh
MOONLIGHT Barry Jenkins, Adele Romanski, Dede Gardner, Jeremy Kleiner
MUSTANG Deniz Gamze Ergüven, Alice Winocour, Charles Gillibert
TONI ERDMANN Maren Ade, Janine Jackowski, Jonas Dornbach, Michel Merkt
Best Supporting Actress
AVIN MANSHADI Under the Shadow
GEMMA ARTERTON The Girl With All the Gifts
NAOMIE HARRIS Our Kind of Traitor
SHANA SWASH My Feral Heart
TERRY PHETO A United Kingdom
Best Supporting Actor
ARINZÉ KENE The Pass
BRETT GOLDSTEIN Adult Life Skills
CHRISTOPHER LLOYD I Am Not a Serial Killer
JAMIE DORNAN Anthropoid
SEAN HARRIS Trespass Against Us
Best Documentary
THE CONFESSION: LIVING THE WAR ON TERROR Ashish Ghadiali, James Rogan
DANCER Steven Cantor, Gabrielle Tana
THE HARD STOP George Amponsah, Dionne Walker
NOTES ON BLINDNESS Peter Middleton, James Spinney, Mike Brett, Jo-Jo Ellison, Steve Jamison, Alex Usborne
VERSUS: THE LIFE AND FILMS OF KEN LOACH Louise Osmond, Rebecca O'Brien
Outstanding Achievement in Craft
JOAKIM SUNDSTRÖM Sound – Notes on Blindness
PAUL MONAGHAN, MAT WHITECROSS Editing – Supersonic
ROBBIE RYAN Cinematography – American Honey
SEB BARKER Visual Effects – The Girl With All the Gifts
SHAHEEN BAIG Casting – Free Fire
The Douglas Hickox Award (Debut Director)
ADAM SMITH Trespass Against Us
ALICE LOWE Prevenge
BABAK ANVARI Under the Shadow
PETER MIDDLETON, JAMES SPINNEY Notes on Blindness
RACHEL TUNNARD Adult Life Skills
Debut Screenwriter – new for 2016
ED TALFAN The Passing (Yr Ymadawiad)
HOPE DICKSON LEACH The Levelling
JOHN CAIRNS, MICHAEL McCARTNEY A Patch of Fog
RACHEL TUNNARD Adult Life Skills
SIMON FARNABY, JULIAN BARRATT Mindhorn
Breakthrough Producer – new for 2016
CAMILLE GATIN The Girl With All the Gifts
DIONNE WALKER The Hard Stop
MICHAEL BERLINER Adult Life Skills
MIKE BRETT, JO-JO ELLISON, STEVE JAMISON Notes on Blindness
PAUL FEGAN Where You're Meant to Be
Most Promising Newcomer
DAVE JOHNS I, Daniel Blake
HAYLEY SQUIRES I, Daniel Blake
LETITIA WRIGHT Urban Hymn
SENNIA NANUA The Girl With All the Gifts
STEVE BRANDON My Feral Heart
The Discovery Award
BLACK MOUNTAIN POETS Jamie Adams, Jon Rennie
THE DARKEST UNIVERSE Tom Kingsley, Will Sharpe, Tiani Ghosh, Jo-Jo Ellison
THE GHOUL Gareth Tunley, Jack Healy Guttmann, Tom Meeten
GOZO Miranda Bowen, Leo Scott
THE GREASY STRANGLER Jim Hosking, Toby Harvard, Daniel Noah, Andrew Starke, Ant Timpson, Josh C Waller, Elijah Wood
Best British Short
JACKED Rene Pannevis, Ashish Ghadiali, Jennifer Eriksson
MOTHER Leo Leigh, Scott O'Donnell
OVER Jörn Threlfall, Jeremy Bannister
RATE ME Fyzal Boulifa, Taina Galis
THE WRONG END OF THE STICK Terri Matthews, Chris Cornwell, Sam Bank