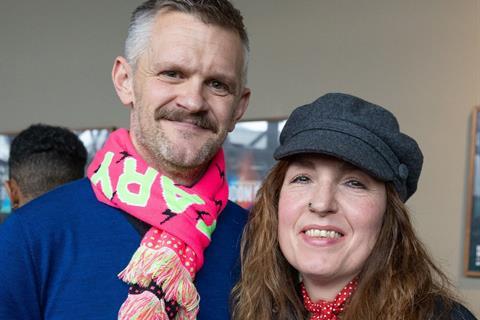 Mia Bays, the incoming director of the BFI Film Fund, laid out her aim "to be out in the UK and not just metrocentric" during her time in the role at a reception held today (October 8) at the BFI Southbank.
The reception was part of the London Film Festival and celebrated BFI-backed, National Lottery-funded films and filmmakers.
Bays officially begins her new role on Monday (October 11), having previously been director-at-large at female-focused film charity Birds' Eye View. The film fund role was vacated by BFI CEO Ben Roberts last year and Bays' tenure will last for three years. She will lead the strategic and cultural direction of the BFI's investment of National Lottery funds into UK feature film development and production, with the fund standing at about £30m per year.
"I'm celebrating my 30th year in film at the moment," said Bays. "It's such a special thing to be made director of the BFI Film Fund at the same time.
"I am going to be doing the job in London, but I'm also going to be based in Nottingham. I want to make that clear – I want to be out in the UK and not just metrocentric. I genuinely will be in Nottingham, not just for a day, but substantially across the year and across my whole term of three years.
"I've got three years to make something special happen, I promise I will," she added. "I don't know anything yet. I'm coming in with a beginner's mind which I think is a healthy way to approach things, but also I have a lot of experience of different things so want to hold both of those – the experience and not knowing – together."
Guests in attendance included Roberts; senior production and development executive at the Film Fund, Lizzie Francke; National Film and Television School director Jon Wardle; Number 9 Films producer Elizabeth Karlsen; Film4's head of creative Ollie Madden; BBC Film commissioning executive Eva Yates; The Phantom Of The Open screenwriter Simon Farnaby; and director of UK features at Netflix, Fiona Lamptey.
Recipients of the BFI 2020 Vision Awards – which awards National Lottery funding to UK producers to help them build their slates – in attendance were Emily Precious, Linn Waite, Stephanie Aspin, Helen Simmons, Chi Thai (a 2021 Screen Star of Tomorrow), Pietro Greppi, Farah Abushwesha, Camilla Wren, Shirine Best and Rebecca Mark Lawson.