Seven projects presented at Reykjavik-based film festival.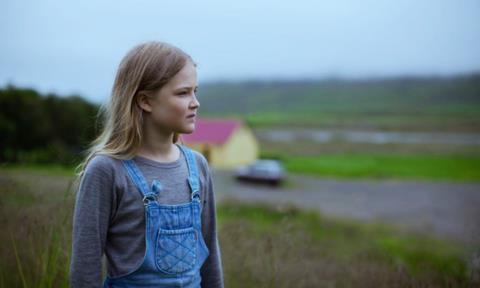 Seven forthcoming Icelandic film and TV projects were previewed at last week's Stockfish Film Festival as short works-in-progress presentations.
They included feature debuts from two Columbia University film school graduates, Isold Uggadottir and Ása Helga Hjörleifsdóttir; the fiction feature debut of documentarian Ari Alexander Ergis Magnússon (produced by Oscar nominated Fridrik Thor Fridriksson); and the next film from Rams producer Grimar Jonsson.

The seven projects presented were:
And Breathe Normally
Dir Isold Uggadottir, prod Skuli Malmquest of Zik Zak Filmworks
Uggadottir makes her feature debut with this drama about "two very different women from different countries and continents – a border patrol officer at airport and a migrant." Set in Iceland's Reykjanes peninsula, the story follows the women whose lives intersect briefly while they are trapped in unforeseen circumstances. The film is now finalizing sound and colour grading. Uggadottir met with African migrants living at a facility in Keflavik as she was writing the script back in 2011/2012. "We didn't have so much on screen especially in Iceland, so I wanted to see more of these stories," the director said.

The Far Traveller: A Female Viking Explorer
Dirs Anna Dis Olafsdottir & Johann Sigfusson
This TV documentary will tell the story of Guðríður Þorbjarnardóttir, a female Viking explorer who lived around 980-1050. Olafsdottir said, "She was the lady who was the most travelled in her time, she travelled eight times across the Atlantic. And she walked to Rome when she was in her 60s. Not many people outside of Iceland know about her so we are excited about her story. We are exploring how the Viking women's culture of the time reflects back to our time." Profilm has this project in pre-production now for delivery in late 2018.
Life After Death
Dir Vera Sölvadóttir, prods Þórhallur Gunnarsson, Anna Vigdís Gísladóttir, Arnbjörg Hafliðadóttir (Sagafilm)
This comedy/drama TV mini series is about a local pop star who refuses to participate in the Eurovision finals because of his mother's funeral. "It has an Icelandic theme but it's also international because it's about Eurovision and death," said Sölvadóttir. "It's a black comedy but it has a deeper meaning when you look at it." Local broadcaster RUV will air over Easter.
Mikhel
Dir Ari Alexander Ergis Magnusson, prods Friðrik Þór Friðriksson, Leifur B. Dagfinsson, Kristinn Þórðarson and Magnusson
Magnusson was inspired by a true story from 2004 in this drama about two immigrants to Iceland who run into trouble for smuggling drugs. "It's also about betrayal and how you can betray everything you stand for," said Magnusson, who has a long career directing documentaries including Screaming Masterpiece. The film has been a passion project for him for nearly a decade – "we were supposed to do it in 2008 but the financial crash but on film on hold," he explained. The film will continue a small portion of its shoot in Estonia later this year, with delivery set for autumn. Veteran filmmaker Fridrik Thor Fridriksson is producing along with TrueNorth.

The Swan (pictured)
Dir Ása Helga Hjörleifsdóttir, prods Hlín Jóhannesdóttir and Birgitta Björnsdóttir of Vintage Pictures
Adapted from the classic novel by Gudbergur Bergsson, The Swan is about a 9-year-old girl send to a relative's farm for the summer to "work and mature." "Instead, she gets entangled in a drama she doesn't really understand as she develops a relationship with a farmhand who is much older," said Hjörleifsdóttir. "The theme of the film is coming of age, this girl is diving into the murky waters of adulthood." The film shot in the north of Iceland as is nearing completion. It was previously presented as a work in progress in Goteborg.

Under The Tree
Dir Hafsteinn Gunnar Sigurðsson
prod Grímar Jónsson
Sigurðsson, whose past two features are international festival hits Paris of the North and Either Way, said his new film is "a family drama with some darkly comic elements as well, and some unconventional thriller elements." The story follows two families who become involved in a bitter dispute over a tree, which one family thinks is beautiful but blocks the sun in their neighbours' garden. The initial idea for the film started with real news stories, Sigurðsson said. "We have a lot of famous tree conflicts in Iceland, trees are quite rare, if you have a big and beautiful tree you don't want to cut it down. Also, sunshine in your garden can also be quite rare, so it can be an impossible conflict. It often ends quite nastily. I'm drawn that these neighbourly disputes are respectable people and they lose control." The film was previously pitched as a work in progress at CPH PIX.

Winter Brothers (Den-Ice)
Dir Hlynur Palmason, Prods Julie Waldersdorph Hansen, Hlynur Palmason
Palmason described the drama as "a brother odyssey, a film about two brothers, their routines and rituals. We follow them with a focus on the younger brother, Emil, the whole film is very much about Emil's want and need to be desired and loved. That's the core of the film, the heart." The film was shot in Denmark and previously presented as a work in progress at Haugesund and CPH PIX.
Festival prizes and guests
The Stockfish Film Festival wrapped Sunday after awarding its Shortfish competition prize to Guðný Rós Þórhallsdóttir for her film Vitamin-C. She received $9.400 (ISK 1m) credit with equipment rental house Kukl.
The jury was comprised of director Baldvin Z, producer Rakel Garðarsdóttir and actress Steinunn Ólína.

Guests at Stockfish's third edition included British producers Rebecca O'Brien and Mike Downey, French director Alain Guiraudie, Croatian director Rajko Grlic, Australia-born director Benedict Andrews, Swedish director Mans Mansson Slovenian director Damjan Kozole, and German composer and musician Ulrike Haage.
Stockfish was established in 2015 as a reincarnation of the former Reykjavik Film Festival (not to be confused with September's Reykjavik International Film Festival). Stockfish is a collaboration between the film professional associations in Iceland and it is hosted at Iceland's only arthouse cinema, Bio Paradis.