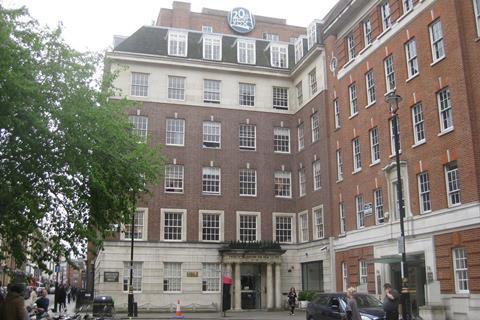 A planning application has been submitted to demolish the iconic 20th Century Fox building in Soho Square, London, which has stood as the studio's UK headquarters since it was built in 1936–7.
Following the Walt Disney Company's $71.3bn takeover of 20th Century Fox's entertainment assets, which was closed in March this year, major changes are expected at the UK branch of the US studio.
Screen exclusively revealed the new-look senior marketing team at the newly-integrated company yesterday.
Among the outstanding questions is where employees will be housed in the UK. Disney's primary office in London is in Hammersmith, on the west side of the city, and it has been speculated Fox staff who are retained would likely move there.
This now seems increasingly likely as an application has been submitted to the City of Westminster Council to demolish the 20th Century Fox building in Soho, with plans to build a brand new building on the site, including residential flats, retail and restaurant units, and office space.
The application comes from Royal London Asset Management, a UK fund management company that is developing several properties across Soho.
Disney would not comment on whether the company was likely to make use of the office space. But, as the demolition and subsequent new build would take a significant amount of time, London-based Fox employees retained by Disney may need to relocate.
However, a challenge has been lodged to the planning application, which is now under review by Westminster Council. The challenge comes from the Soho Society, a community organisation that looks to preserve the Soho locale.
The Young Victoria and Coriolanus producer Colin Vaines, who lives in Soho, is a member. He posted a statement from the Society on social media that said it was "concerned about the loss of an attractive building with many historical associations in the conservation area, the loss of integrity to the square, at least two years of construction and the impact of construction on neighbours (both business and residential), and the environment".
The planning application can be seen on the Westminster Council website.