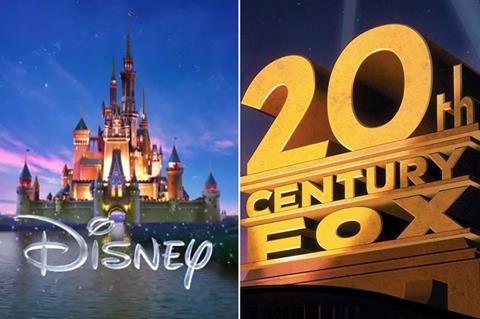 The leadership team at Disney and 20th Century Fox's newly-combined Europe, Middle East and Africa (EMEA) operations is taking shape with the senior marketing team now confirmed.
Lee Jury, senior vice president, studio and integrated marketing for EMEA, sent a company-wide email, which has been seen by Screen, outlining the company's senior marketing team going forward on June 6.
Nicole Morse, CMO Middle East and DM+ at The Walt Disney Company, will lead a "dedicated regional and UK integrated marketing" team across EMEA, noted the email.
The regional digital marketing and the advertising teams will report directly to Jury. He reports to London-based Rebecca Campbell, president, The Walt Disney Company, EMEA, Russia and the CIS region.
Confirmed on the EMEA regional and UK studio marketing team are: Catherine France (creative); Charlotte Tudor (Disney live action & animation marketing); Maggie Todd (Disney Studios publicity); Ian Morton (Fox Marketing excluding Searchlight, leading through a transition period); Jane Gibbs (Fox & Fox Searchlight publicity) and Robin Kinsey (Marvel & Lucasfilm marketing).
Working in in-country studio and integrated marketing across various territories are: Adrienne Scott (Africa); Elles Haverkort (Benelux); Jane Carter (France); Johanna Pfeiffer (Germany, Switzerland and Austria); Trish Long (Ireland); Pawel Mrugacz (Poland/CEE); Marta Kowalska (Spain, Portugal); Armagan Milli (Turkey, Israel & Greece).
Of the above, all are pre-merger Disney employees apart from Morton, Gibbs and Carter, who are coming over from Fox.
"For the Studio Marketing organisation across Nordics (Sweden, Denmark, Finland and Norway) and also for Italy and Russia, there are no proposed changes currently to structures or organisation," read the email. "Both the Fox and Disney marketing teams in these markets will continue to function in parallel."
Leading those teams are: Nordics – Per Erik Hotti (Disney), Mats Jegeus (Fox); Russia – Elena Brodskaya (Disney), Anastasia Polyakova (Fox); Italy – Davide Romani (Disney), Andrea Cuneo (Fox); Middle East – Mae Ghandour (Disney).
Also continuing in their current roles for Disney to support studio and integrated marketing are: Dave Anderson (HR), Ginny Lightman (finance) and Nicola Burns (legal).
The news follows Disney's $71.3bn takeover of 20th Century Fox's entertainment assets, which was closed in March this year. Since then, significant changes have been anticipated in staffing across the companies' US and international offices.
"Over the last eight weeks, along with my colleague Tony Chambers, we have had the opportunity to personally meet with and speak to all of the local and regional Fox and Disney theatrical teams across EMEA. We know it has been a challenging time for all concerned throughout the process and so I sincerely want to thank everyone for the understanding shown," reads Jury's email.
Jury, in conjunction with the retained senior executives and HR teams, will now analyse each local/regional team and decide who is retained, the email added.
It is not yet known what roles senior Fox executives including Chris Green, managing director at 20th Century Fox UK, and Todd Huntley, SVP EMEA, international theatrical at 20th Century Fox, will have in the new-look company.