Other winners at the cinematography festival in Poland included Alfonso Cuaron's Gravity.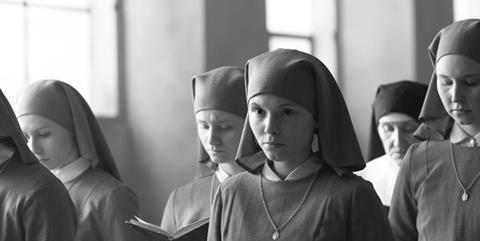 Scroll down for full list of winners
Competition winners at Camerimage, the International Film Festival of the Art of Cinematography, were revealed today as the 21st edition came to a close with a gala awards celebration at the Opera Nova in Bydgoszcz, Poland.
The winner of the top prize - the Golden Frog - went to Polish drama Ida, directed by Paweł Pawlikowski, the latest in a string of top awards for the film.
Ida cinematographers Lukasz Zal and Ryszard Lenczewski accepted the award.
The film stars newcomer Agata Trzebuchowska opposite Polish star Agata Kulesza in the story of a young novitiate nun in 1960s Poland who is on the verge of taking her vows when she discovers a dark family secret dating back to the years of the Nazi occupation.
It marks the first Polish-language film for Warsaw-born British filmmaker Pawlikowski, best known for The Last Resort and BAFTA-award winning My Summer of Love.
The film previously won the FIPRESCI International Critics' Award at the Toronto International Film Festival; best film at the BFI London Film Festival; the top prize at Poland's Gdynia Film Festival; and the City of Warsaw Grand Prix at the Warsaw Film Festival.
Ida is a co-production with Opus Film (Poland), Phoenix Film Investments (Denmark) and Fandango Portobello (UK).
Runners up were Amat Escalante's Heli, with cinematography by Lorenzo Hagerman, and the Coens Inside Llewyn Davis, with cinematography from Bruno Delbonnel, which received the Silver and Bronze Frog respectively.
Camerimage's inaugural 3D competition saw the Best 3D Documentary Film go to Wim Wenders' Pina, with cinematography from Hélene Louvart, while the Best 3D Feature Film prize went to Alfonso Cuarón's astronaunt thriller Gravity, with cinematography from Emmanuel Lubezki.
The 21st edition of Camerimage ran from Nov 16-23, opening with Saving Mr Banks and closing with Ben Stiller's The Secret Life of Walter Mitty.
MAIN COMPETITION
Golden Frog winner: Ida
cin. Łukasz Żal, Ryszard Lenczewski
dir. Paweł Pawlikowski
Silver Frog winner: Heli
cin. Lorenzo Hagerman
dir. Amat Escalante
Bronze Frog winner: Inside Llewyn Davis
cin. Bruno Delbonnel
dir. Ethan Coen, Joel Coen
POLISH FILMS COMPETITION
Best Polish Film: The Girl from the Wardrobe
cin. Arkadiusz Tomiak
dir. Bodo Kox

STUDENT ETUDES COMPETITION
Laszlo Kovacs Student Award - The Golden Tadpole: Such a Landscape
cin. Zuzanna Pyda
dir. Jagoda Szelc
School: Państwowa Wyższa Szkoła Filmowa, Telewizyjna i Teatralna im. L.Schillera w Łodzi (PWSFTviT)
The Winner of the Golden Tadpole has also received the Polish Filmmakers Association Award
Silver Tadpole: Zinneke
cin. Erika Meda
dir. Rémi Allier
school: Institut des Arts de Diffusion (IAD)
Bronze Tadpole: Funeral of Harald Kramer
cin. Anselm Hartmann
dir. Marc Schlegel
School: Institut für Film und Fernsehen FILMAKADEMIE WIEN
Polish Film Institute and Mastershot Special Award for Best Cinematography in the Student Etudes Competition: Magnesium
cin. Paul Özgür
dir. Sam De Jong
School: Nederlandse Filmacademie - Netherlands Film Academy
FEATURE LENGTH DOCUMENTARY FILMS COMPETITION
Golden Frog — Grand Prix: Winter Nomads
cin. Camille Cottagnoud
dir. Manuel von Stürler
Special Mention: Matthew's Laws
cin. Aage Hollander, Marc Schmidt
dir. Marc Schmidt
SHORT DOCUMENTARY FILMS COMPETITION
Golden Frog — Grand Prix: Grandpa and Me and a Helicopter to Heaven
cin. Johan Palmgren
dir. Åsa Blanck, Johan Palmgren
Special Mention: Not Anymore: A Story of Revolution
cin. Matthew VanDyke
dir. Matthew VanDyke
DIRECTORS' DEBUTS COMPETITION
under the patronage of the Polish Filmmakers Association (SFP)
Best Directorial Debut: Augustine
cin. Georges Lechaptois
dir. Alice Winocour
CINEMATOGRAPHERS' DEBUTS COMPETITION
under the patronage of the Polish Filmmakers Association (SFP)
Best Cinematography Debut: Medeas
cin. Chayse Irvin
dir. Andrea Pallaoro
3D FILMS COMPETITION
Best 3D Documentary Film: Pina
cin. Hélene Louvart
dir. Wim Wenders

Best 3D Feature Film: Gravity
cin. Emmanuel Lubezki
dir. Alfonso Cuarón
MUSIC VIDEOS COMPETITION
Best Music Video: Gesaffelstein 'Pursuit'
cin. Nicolas Loir
dir. Fleur & Manu
Best Cinematography In A Music Video: Ghostpoet 'Cold Win'
cin. Nicolas Loir
dir. Cyrille de Vignemont
ADVERTISING SPOTS COMPETITION "EUROPEAN FUNDS IN FOCUS… NEW PERSPECTIVE"
In co-operation with Kujawsko-Pomorskie Voivodeship
The Jury decided not to present the Main Award. The Special Mention was presented to The Ministry of Regional Development for a series of commercials "Każdy korzysta, nie każdy widzi" (Everyone benefits, not everyone sees).