Other winners honoured at the glitzy ceremony included Anthony Chen for Ilo Ilo, and Starred Up screenwriter Jonathan Asser.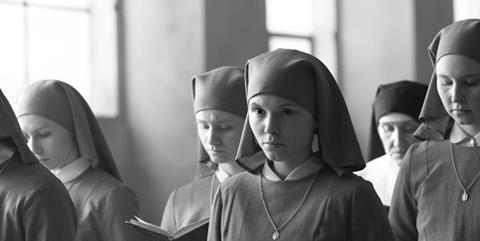 Pawel Pawlikowski's Ida has been crowned the Best Film at the 57th BFI London Film Festival (Oct 7-20).
It saw off competition from the likes of Richard Ayoade's The Double, Peter Landesman's JFK drama Parkland and Jonathan Glazer's Under the Skin, starring Scarlett Johansson (click here for full list).
Ida stars newcomer Agata Trzebuchowska opposite Polish star Agata Kulesza in the story of a novice nun coming face-to-face with her family's past in 1960s Poland.
It marks the first Polish-language film for Warsaw-born British filmmaker Pawlikowski, best known for The Last Resort and BAFTA-award winning My Summer of Love.
The film previously won the FIPRESCI International Critics' Award at the Toronto International Film Festival last month and the top prize at Poland's Gdynia Film Festival.
Ida is a co-production with Opus Film (Poland), Phoenix Film Investments (Denmark) and Fandango Portobello (UK).
Accepting his award from jury president, and recent BFI Fellow Philip French at a glitzy ceremony held at London's Banqueting Hall, Pawlikowski said "I've seen four or five of the other films and they are great, so I'm doubly honoured to be given this."
"Thank you to Clare [Stewart] for inviting me and for having such brilliant taste," he joked.
The former Observer film critic said the jury "greatly admired" Ida.
He added: "We were deeply moved by a courageous film that handles, with subtlety and insight, a painfully controversial historical situation – the German occupation and the Holocaust – which continues to resonate. Special praise went to [Pawlikowski's] use of immersive visual language to create a lasting emotional impact."
French's fellow jurors were An Education director Lone Scherfig, Canadian-based visual artist Stan Douglas, actress Miranda Richardson, Pride and Prejudice screenwriter Deborah Moggach, and Rodrigo Prieto, cinematographer on Argo and Brokeback Mountain.
BEST BRITISH NEWCOMER
The award for Best British Newcomer, presented by actress Saoirse Ronan, went to screenwriter Jonathan Asser, for his debut feature Starred Up, directed by David Mackenzie, whose title refers to the practice of placing violent young offenders prematurely in adult prison.
Accepting his award from Jury President Amanda Posey, Asser said it was "wonderful to be a newcomer at 49".
He said: "The film would not have happened without David Mackenzie who saw something and connected with it."
Asser previously worked as a therapist for the prison service before his work was controversially stopped, prompting him to write his "first ever film script."
Posey said: "Starred Up is an original story told with an individual and authentic voice, at once moving, provocative and always gripping.
"The material, even from a new screenwriter, was intelligent and distinctive enough to attract very high quality filmmaking talent and actors, and to help illicit extraordinary work from all involved.
"The whole jury felt Jonathan Asser brought a fresh, resonant and surprising perspective to a classic conflict".
The jury also highly commended the performances of nominees Conner Chapman and Shaun Thomas for their roles in Clio Barnard's The Selfish Giant.
"The whole jury was blown away by these two performances and we could not separate them as together they are the heart of the film. These are two outstanding talents and we wanted the opportunity to recognise that with this joint commendation" said Posey.
The Best British Newcomer jury also comprised director Tom Kingsley, actor Cillian Murphy and actresses Saoirse Ronan, Gina McKee and Joanne Froggatt.
FIRST FEATURE COMPETITION
The First Feature 'Sutherland Award' was presented to Anthony Chen for Ilo Ilo, a study of a modern affluent family and its vulnerabilities.
Jury President Elizabeth Karlsen said: "The startlingly assured direction and screenwriting of the winning film surprised us all.
"Anthony Chen's Ilo Ilo also chose a domestic canvas, but the imaginative and innovative voice of this filmmaker elevated the film technically and narratively, and made us wonder at the fragile nature of family life in this modern Singapore tale".
The jury also commended Chika Anadu's B For Boy, about a woman caught in the crossfire of old and new world value systems in contemporary Nigeria. The jury described it as "a powerful film, told with a visual and emotional elegance".
In addition to jury president and co-founder of Number 9 Films Elizabeth Karlsen, the Sutherland jury comprised actress Emilia Fox, director Susanna White, actor Jim Broadbent and actor Stephen Dillane.
DOCUMENTARY COMPETITION
The Best Documentary Award, co-presented with the Grierson Trust, was awarded to My Fathers, My Mother and Me, a portrait of Friedrichshof, the largest commune in Europe, founded by the Viennese Actionist Otto Mühl in the 1970s and the emotional effects on its residents.
Jury President Kate Ogborn said: "As a jury we would like to recognise the bravery of Paul-Julien Robert for taking us on such a personal journey with My Fathers, My Mother & Me.
"It is a thought- provoking and disturbing film, intimate whilst also raising larger questions of power, parental responsibility and abuse.
"The incredible archive footage combined with the personal journey of a mother and son left us disturbed, angry and feeling that this is a film that deserves to be seen by a wider audience".
The jury also commended Cutie & the Boxer for the "original and creative way in which the filmmakers crafted an intimate portrait of a relationship", as well as Greg Baker's Manhunt which gave the audience "extraordinary access to usually unreachable secret intelligence operatives". The cinematography of Pipeline was also recognised and commended.
Kate Ogborn's fellow jurors were Sky commissioning editor Chris Wilson, cinema programmer for City Screen, Chris Harris, BBC newsreader and presenter Sophie Raworth and Renegade Pictures CEO Alex Cooke.
As previously announced, veteran actor Sir Christopher Lee was honoured with the BFI Fellowship - the highest accolade that the BFI bestows.
He was presented with his Fellowship by surprise guest of the night, Johnny Depp, who described Lee as a "national treasure" and "inimitable".
Click here for more on Depp's surprise appearance
The awards ceremony was hosted by Joanna Lumley. Other star attendees included Stephen Dillane, Susanna White, Joanne Froggat and Lone Scherfig.
The London Film Festival, which has screened 235 films over 11 days, wraps on Oct 20 with the European premiere of Saving Mr Banks, followed by an after party at Old Billingsgate.