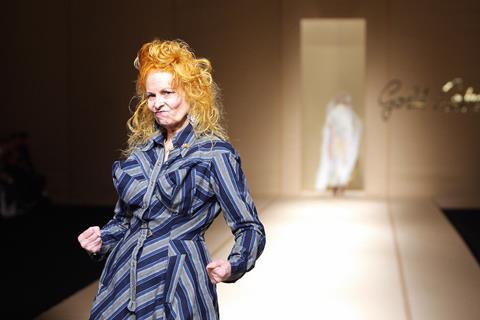 UK-based distribution and sales outfit Dogwoof sealed a slew of deals on its hot documentary titles Lorna Tucker's Westwood: Punk, Icon, Activist, and Chris Martin's Under The Wire, at this week's International Documentary Film Festival Amsterdam (IDFA).
Westwood, which profiles UK fashion designer Vivienne Westwood, sold to the BBC (UK TV), NTR (the Netherlands), and Globosat (Brazil), while Under The Wire, about the late foreign correspondent Marie Colvin, went to YesDocu (Israel) and NRK (Norway). German- speaking rights were sold to Ascot.
Tel Aviv-based sales agent Cinephil picked up international rights to Serebrennikov, a new film from producer Simone Bauman about the travails of Russian filmmaker and theatre director, Kirill Serebrennikov, a critic of President Vladimir Putin who has been put under house arrest by the Russian government. Serebrennikov was unable to travel to Cannes for the premiere in competition of his most recent feature, Leto.
New films, new details
Russian documentary director Victor Kossakovsky revealed further details of the ambitious release plans Sony Pictures Classics (SPC) has for his epic, water-themed documentary, Aquarela, which premiered at Venice. SPC picked up the film last month for North America, Australia, New Zealand, Latin America, Scandinavia, South Africa, and India. It explained it is delaying the release until the summer of 2019 in the hope the right kind of projectors will be available for screening the film as Kossakovsky intended.
Aquarela was made at 96 frames per second. But festivals from Venice to IDFA have only been equipped to show it at 48 fps. "[Sony] decided not to bring it for this year because technologically the industry is not ready to show it in 96. It's a pity to show it at 48 and awful to show it at 24.," said Kossakovsky.
He suggested when the film finally is screened at the right frame rate, it will have a revolutionary effect on filmmaking. "One moment, cinema changed - sound appeared. One moment, colour appeared. Now it is time to change the frame rate," he said.
Details also emerged of Lode Desmet's new feature called Negotiating Brexit (working title, no pun intended) produced by Hans Everaert's Belgian company, Menuetto. The film will explore the tortuous Brexit negotiations through the eyes of Guy Verhofstadt, lead negotiator for the European Parliament .
Festival tips for 2019
Several films that made their world premiere at IDFA are being tipped for berths at major festivals in early 2019. They include Hans Pool's Bellingcat - – Truth In A Post-Truth World, which screened in IDFA's Front Light in the presence of Bellingcat founder, Elliot Higgins. The film, produced by Femke Wolting and Bruno Felix's Submarine, has also been picked up for international sales by Cinephil. CAA is handling the US rights.
The film includes up to date material about the poisoning of Russian spy, Sergei Skrtipal, and his daughter in the UK earlier this year. Bellingcat's journalists provided compelling evidence the poisoning was carried out by GRU operatives.
Another title likely to surface at international festivals early next year is Carl Java's feature documentary, Reconstructing Utøya, also handled by Cinephil. It is the third film in under a year about the Utøya massacre. This Swedish-Norwegian documentary is already a critical hit in the Nordic countries where it has already been released.
A new direction
This was the first IDFA under new artistic director Orwa Nyrabia. He is promising significant changes in programming and in the organisation of IDFA's main industry event, The Forum. "It is high time all the stakeholders re-think the processes and rituals of how we do business," Nyrabia told the local press, highlighting a "serious problem" in the way the Forum is structured. "I see a lot of frustration over the format of the central pitches…the industry is changing so fast. We cannot keep the same structures."
Nyrabia has gone out of his way to entice the SVOD giants to IDFA and to involve them in its industry and coproduction events alongside broadcasters and traditional documentary funders. Netflix's London-based Kate Townsend was a prominent participant in the Forum this year.
There are also hints Nyrabia is moving the programming focus away slightly from western Europe and the US and toward what he described as "less represented regions". This year Nyrabia foregrounded works by leading Asian directors including the Chinese trio of Zhang Yang, Wang Bing and Xiaoshuai Wang.
It was also revealed at IDFA that the Bertha Doc Society Journalism Fund, which has supported films including Virunga, CITIZENFOUR, and Look Of Silence, is to be wound down over the next two years.
"We will still work with Doc Society in many ways" said Rebecca Lichtenfeld of the Bertha Foundation. "Bertha is re-envisioning aspects of our overall foundation strategy and want a bit more flexibility in how we fund films and support the field of journalism.
"Our commitment to the field is not wavering nor our commitment to supporting strong film projects or the important work of doc society. We are extremely proud of what we've accomplished together via this fund."