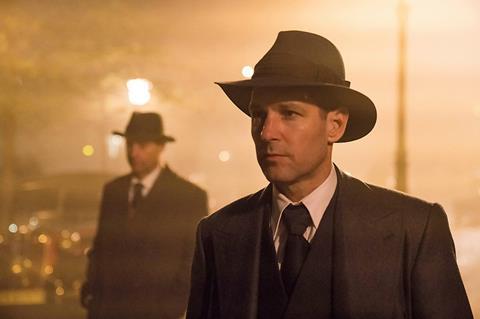 IFC Films has acquired US rights to Second World War drama The Catcher Was A Spy starring Paul Rudd, Sienna Miller, Jeff Daniels, Guy Pearce, and Paul Giamatti.
Ben Lewin directed from a screenplay by Robert Rodat based upon Nicholas Dawidoff's 1994 non-fiction book The Catcher Was a Spy: The Mysterious Life Of Moe Berg.
PalmStar Media's Kevin Frakes, Animus Films' Jim Young, Serena Films' Tatiana Kelly and Windy Hill Pictures' Buddy Patrick produced the film, which debuted in Sundance at the start of the year. IFC Films has set a theatrical release for June 22.
The Catcher Was A Spy is based on the true story of Major League Baseball player Berg, who walked away from his family and a 15-season MLB catching career to lend his hand to wartime efforts to defeat the Nazis.
After excelling at the rigorous training mandatory for intelligence officers in America's pre-CIA agency, Berg convinced leaders that his unique capabilities would serve the nation well as a spy, whereupon he was tasked to head to Europe and infiltrate the inner sanctum of the Nazi atomic programme.
Jonathan Sehring and Lisa Schwartz, co-presidents of IFC Films said, "We were completely captivated by the story of Moe Berg, and Paul Rudd's stellar portrayal of him on screen, as well as the rest of this all-star cast. Ben and Robert have delivered a tense, historical drama that is more unbelievable than any Hollywood screenplay. We are excited to be sharing the true story about a hero, both on the ball field as well as the battle field, with audiences nationwide."
"We are thrilled to be teaming up again with our friends at IFC to share Moe Berg's inimitable and extraordinary true story," the filmmakers said. "Their creativity and passion for bringing unique stories to discerning audiences make them the perfect partner for us."
Arianna Bocco of IFC Films brokered the deal with UTA Independent Film Group on behalf of the filmmakers.