Three films from 12 teams will be greenlit for production.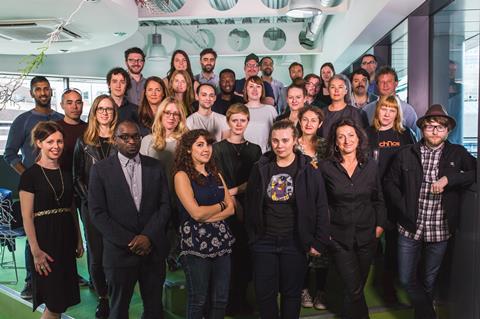 Scroll down for full list of projects
UK film-making initiative iFeatures has revealed the teams and projects that will make up its fourth development slate.
Twelve teams and projects have been selected, of which three will be greenlit for production in 2017, each with a budget of £350,000 ($455,000).
The scheme, which has previously produced regional productions such as Guy Myhill's award-winning The Goob, is overseen by Creative England with partners the BFI Film Fund, BBC Films and Creative Skillset.
The selected teams include Screen International Stars of Tomorrow Rob Savage, Emily Morgan and Joy Wilkinson; Sundance Fellowship winner Naz Sadoughi; and Ted Evans, one of the UK's leading deaf filmmakers who directed and co-wrote the Paralympic Opening Ceremony film Look Up.
Between them the chosen teams have made films which have screened at Toronto, London and Sundance film festivals as well as FrightFest.
The selected films are set across the English regions including Devon, Essex, Burnley, Birmingham and the Lake District. Half of all the directors attached to the projects are women.
This year's initiative starts in Sheffield this week with the first in a series of professional training and development workshops.
Upcoming titles from previous iFeatures include upcoming Lady Macbeth directed by William Oldroyd, Spaceship by Alex Taylor and The Levelling by Hope Dickson Leach.
Zorana Piggott, iFeatures executive producer, said: "We have selected twelve bold and distinctive ideas by exciting new film-makers drawn from just under 300 submissions. The standard of applications was incredibly high and I am very proud of the great genre diversity and the strong regional voices we have on the slate."
iFeatures 2016
Seaholme
Team: Wri/Dir: Rob Savage; wri: David Sugarman; pros: Rob Watson, Paul Van Carter
Genre: Thriller/horror
Setting: Mersea Island, Essex
The turbulent lives of a group of bullied teenagers begin to influence a mysterious creature they discover washed up on a beach, with terrifying results.
Ex Sanguis
Wri: Islay Bell-Webb; dir: Leonora Lonsdale; pro: Chiara Ventura
Romance/Thriller
Yorkshire coastline
Ex Sanguis is a romance thriller about fear and self- discovery through love. After a mysterious disease leaves sufferers dependent on donated human blood to survive, an intense relationship develops between two women as one feeds the other.
Only Available Online
Wri/dirs: Manjeet Gill, Andrew Walker, Matthew Carter; pro: Emily Morgan
Cyber Drama
Birmingham
An anime graphic novelist and a cosplay webcam girl form a bizarre online relationship during their fleeting stay in a Birmingham apartment block.
Make Up
Wri/Dir: Claire Oakley; pro: Emily Morgan
Thriller
Devon
Set amongst hundreds of identical mobile homes in a remote caravan park, Make Up is a thriller about a young woman who is stalked by her boyfriend's lover.
If Only You Knew
Wri/Dir: Cornelius Walker; pro: Femi Oyeniran
Drama
Essex
A black teenager CW moves from South East London to Essex, where he is inducted into a group of right wing white nationalist skinheads.
Retreat
Dir: Ted Evans; wri: E.V Crowe; pros: Alex Usbourne, Michelle Eastwood
Thriller
Bristol
When deaf student Grace abandons the hearing world to live in an all-deaf commune, she is forced to question the morality of the life she has chosen - is this the utopia she's always dreamed of, or a nightmare waiting to happen?
Shy Bird
Dir: Meloni Poole; wri: Naz Sadoughi; pro: Deborah Aston
Road Movie
Sheffield and Manchester
If there's something you'd like to try, ask me I won't say no how could I? A story about the dangerous places love takes you.
The Premises
Wri/Dir: Rose Glass; pro: Oliver Kassman
Drama
Lake District
When a fledgling cult leader finds her position threatened by her most loyal disciple, a deadly gulf emerges between upholding her principles and staying in power
Blow Up Dolls
Dir: Carolina Giammetta; wri: Joy Wilkinson; pro: Jude Goldrei
Sci-fi comedy
Burnley
A sci-fi comedy set in Burnley, about a woman who rebuilds herself as an indestructible cyborg to cope with life as a single mum.
Shadows In The Deep
Wri/Dir: Evrim Ersoy; wri/pro: James Pearcy; pros: Russell Would and Katherine O'Shea
Horror
South West
On a dreary night, in a dilapidated seaside town, two men who have not seen each other for over a decade will reunite to face a horror that their ancestors have lain for them. Neither will come out unchanged.
Equinox
Wri/Dir: Matthew Murdoch; pro: Lisa James
Drama
Wiltshire
A shy twenty-year-old tries to make sense of himself, yet the one thing he wants, is the only thing holding him back.
Perfect Ten
Wri/Dir: Eva Riley; pro: Jacob Thomas
Drama
Brighton
A teenage gymnast finds an escape from her insecurities when her long-lost brother introduces her to an exciting world of scooter crime.