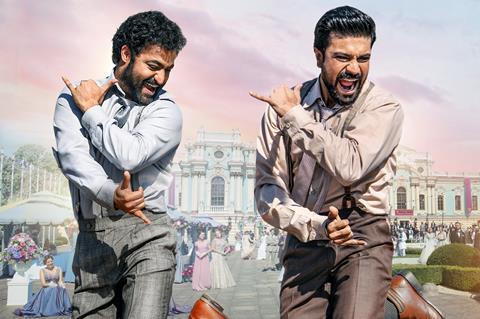 Telugu feature RRR has given India its first ever Golden Globe, winning best original song with hit single 'Naatu Naatu', and has been celebrated by leading figures from the country.
The song, composed by MM Keeravani, beat the likes of Taylor Swift, Lady Gaga, Rihanna and Alexandre Desplat to secure the trophy. The Telugu track is sung by Kala Bhairava and Rahul Sipligunj
Accepting the award at the ceremony in Los Angeles on Tuesday night, Keeravani said he was "very much overwhelmed" with the honour and thanked several members of his team as well as RRR writer and director SS Rajamouli "for his constant trust in my work and support". The composer also recognised stars Ram Charan and NTR Jr, who were on their feet in the room, "who danced with full stamina for the song".
The win sparked reaction from key figures in India including prime minister Narendra Modi who said the "prestigious honour has made every Indian very proud".
Bollywood star Shah Rukh Khan wrote on Twitter: "Just woke up and started dancing to 'Naatu Naatu' celebrating [its] win at Golden Globes. Here's to many more awards and making India so proud!!"
Oscar-winning music composer AR Rahman, who became the first Indian to win a Golden Globe in 2009 with his original score for Slumdog Millionaire, said the win marked a "paradigm shift".
Congratulating Keeravani on Twitter, star NTR Jr wrote: "I've danced to many songs throughout my career but #NaatuNaatu will forever stay close to my heart." Charan shared an image from the awards on Instagram and said: "& we won the Golden Globes."
NTR and Charan perform the uplifting song during an energetic dance-off in RRR, which stands for Rise, Roar, Revolt. It was filmed in Ukraine at Kyiv's Mariinskyi Palace, the ceremonial residence of president Volodymyr Zelensky, just months before the Russian invasion.
Watching the sequence - clips of which have generated hundreds of millions of views on YouTube - is now bittersweet for Rajamouli. "'Naatu Naatu', which is supposed to give so much happiness, makes my heart wrench every time I see it on the screen," he told Screen. "It was hardly five months since we were there, in this happy place that suddenly became a war-torn country. Those feelings come so strongly at me."
RRR was also up for best non-English language film but lost to Argentine feature Argentina, 1985.
The Telugu-language film has become an international phenomenon, taking more than $154m at the worldwide box office since its release in March 2022, and was made available on streaming platform Netflix where it gained high-profile fans such as the Russo brothers, Jessica Chastain, Scott Derrickson, James Gunn and Sam Raimi.