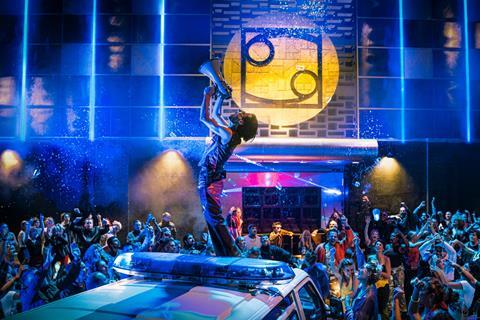 Paris-based Indie Sales will launch sales on Belgian director Robin Pront's thriller Zillion, inspired by the rise and fall of the legendary Antwerp club of the same name, at next week's online European Film Market (EFM, February 10-17).
Running from 1997 to 2002, the venue was the brainchild of the controversial tech entrepreneur and dance music lover Frank Verstraeten. It was one of the first mega-clubs that sprang up in Benelux in the late 1990s and drew clubbers from across the region and beyond until it closed under a cloud. Its regional fame means the feature is already generating strong media interest locally.
Belgian actor Jonas Vermeulen, who was seen recently in Carice van Houten and Halina Reijn's prostitution drama Red Light, stars as the larger-than-life figure of Verstraeten.
It is Pront's third feature after his 2015 drama The Ardennes, starring Kevin Janssens and Jeroen Perceval as two brothers going to go straight after perpetrating a carjacking.
The feature is produced by Hilde De Laere for FBO (Loft, The Memory of a Killer). It is currently in post-production and is due to be released this autumn.
It is among three fresh additions to the Indie Sales EFM slate.
Further new films include Italian director Alberto Mascia's dystopian Sci-Fi drama Hypersleep starring Stefano Accorsi.
It is set in a near-future where prisons have been replaced by technology that puts sentenced inmates into a deep state of sleep. Accorsi stars as a psychologist involved in the programme who suddenly finds himself face to face with an inmate who wakes up out of the blue.
It is produced by Ascent Films and Nightswim in collaboration with Rai Cinema and Prime Video. Indies Sales also previously handled sales on Ascent's Romulus and Remus drama The First King.
"It's a pleasure to team up once again with producers of The First King on one more ambitious production after our successful collaboration," commented Indie Sales CEO Nicolas Eschbach.
The company will also start pre-sales on the female buddy movie Two Tickets To Greece starring Laure Calamy, Kristin Scott Thomas and Olivia Côte.

Marc Fitoussi, whose credits include Appearances, Paris Follies as well as Call My Agent!, directs. It follows estranged former best friends who are reunited on a dream holiday to the Greek Islands but soon realise they have a very different approach to life.
It is produced by Avenue B Productions. Memento Distribution has pre-bought French rights.
Other new titles on the Indie Sales slate include Noémie Lvovsky's The Great Magic and Philippe Van Leeuw's The Wall, starring Vicky Krieps as a US border guard who accidentally kills someone while on patrol.