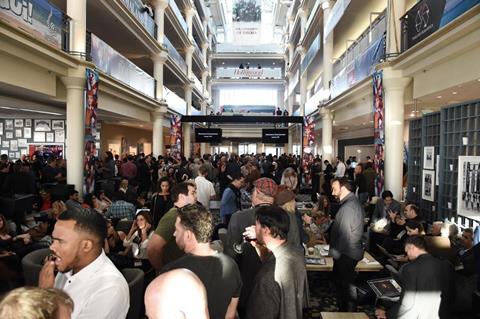 The move by AFM organisers this week to cut back the market from eight days to six has been roundly backed by industry attendees who already felt it was too long – while some have remarked that other issues remain.
This year's trimmed-down event will start on a Tuesday and run from November 3-8 to reflect "the changing needs of the global film industry."
On the face of it insiders said AFM has finally acknowledged a shift to a year-round business cycle that occurred years ago and means attendees nowadays favour a short, intense burst of back-to-back meetings.
Without an accompanying festival, these insiders say, there is no need to wait around once buyers and sellers have connected in person.
"I have never seen the most intense and productive period of AFM last longer than six days," said Alex Walton, head of international film sales at Endeavor Content. "Yet [the market] remains an important event: buyers come into Los Angeles and attend AFM for three days, then do agency meetings. They don't come exclusively for AFM. Having a market in Los Angeles is a positive thing. The international film business is more relevant than ever before."
Walton continued, "Face-to-face meetings will remain a critical component. As we saw at the last AFM, if you have the right product it can be a great place to raise money through independent sources."
Other buyers and sellers who spoke to Screen and preferred to remain anonymous echoed Walton's sentiments, adding they have been leaving Santa Monica on Monday or Tuesday [after six or seven days] for years. One seller said they did not set screenings on those days.
Jonathan Deckter, president and COO of Voltage Pictures, said: "It's been a five- or six-day market for years. This is a small step in the right direction, but the AFM is clearly fractured and needs a lot more than this small step in order to remain relevant."
The cost of the AFM's central venue the Loews has long been cause for complaint, prompting major sales agents like Voltage, Endeavor Content, AGC Studios, FilmNation and Wild Bunch to set up their own market hubs nearby.
During the 2019 edition, the Loews felt less busy than usual after AFM management moved 42 exhibitors from the third floor, where they traditionally shared offices with other companies, into booths on higher levels of the hotel.
This was partly to help attendees be more visible and accessible, and, insiders speculated, partly in response to complaints over cost. For the first time, 60 rooms in the hotel were rented to market attendees as private guests to fill vacancies.
Privately, one European seller said of this week's shift, "It makes sense for them because I think this year they had difficulty renting out the office space in the Loews hotel and that is quite telling. There is change in the business and it doesn't make sense anymore for people to travel that far, put up the stands, and spend all that money."
One frequent European attendee said the AFM was vulnerable because it was not paired to a festival, however it was likely to endure at least for the foreseeable future because the timing of the event suited people. Eastern European buyers in particular are known to savour the trip to southern California in November.
"It's a pure, business-driven event and in this day and age you have other means of course to exchange over content," the attendee said. "You can send links. You can do business all year round. It's of course good to meet people in person; that will make a difference forever. Personal contacts and trust will always be important, but you can do that in a shorter window at the AFM."
Americans canvassed by Screen supported the shift, although one prominent industry figure noted there was still work to be done: "The AFM / Loews have lost the majority of the big companies due to either lack of facilities or cost or both. The only way to try to increase the traffic is to lower the cost. Logic would dictate you start on Monday and end on Thursday like the MIP's and in the process reduce the cost of renting the hotel rooms, movie theatres, etc, which would serve both the buyers and sellers."