Universal, Sony horror film had been scheduled for October release.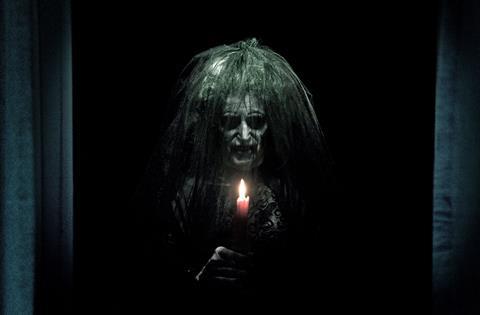 Universal Pictures and Sony Pictures have moved back Insidious: Chapter 4 from October 20 to January 5, 2018.
The film takes the place of the previously announced Untitled Blumhouse Horror Project. Universal's Half To Death from Blumhouse will now open on October 20 this year.
Universal handles North American distribution on Insidious: Chapter 4 while Sony handles international.
Franchise co-creator Leigh Whannell wrote the screenplay and Lin Shaye stars as a parapsychologist who experiences a haunting in her family home. Newcomer Adam Robitel directs.
Jason Blum, Oren Peli and co-creator James Wan serve as producers, while Steven Schneider, Brian Kavanaugh-Jones, Charles Layton, Bailey Conway Anglewicz, Couper Samuelson and Whannell serve as executive producers.
Christopher Landon directs Half To Death from Blumhouse, about a college student who relives the day of her murder until she discovers her killer's identity. Jessica Rothe stars.
Universal has moved up by one week its Tom Cruise action thriller American Made from Doug Liman. The film will now open on September 22. Domhnall Gleeson also stars.