Syria-set drama set to benefit from European exhibition support.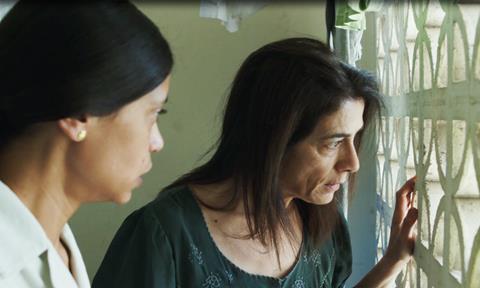 Philippe van Leeuw's Insyriated has won the Europa Cinemas Label as the best European film in the Panorama section of the Berlin Film Festival.
The Syria-set drama stars Hiam Abbas as a woman trapped with her family in their Damacus apartment as the city suffers from the conflict raging outside.
Screen's review described the film as "tense and nerve-shredding".
Insyriated will now benefit from promotional support from Europa Cinemas, which will offer a financial incentive to encourage cinemas in the network to include the film in their programme schedules.
This is the 13th time the label has been awarded. It was voted on by a jury of four exhibitors from the Europa Cinemas network. They were: Alice Black (Dundee Contemporary Arts, UK); Pierre-Alexandre Moreau (Cinémas Studio, France); Monica Naldi (Cinema Beltrade Italy); an Feliks Wagner (Neues Off Kino, Germany).
The jury issued the following statement: "Insyriated could not be more vital and topical, and an entirely appropriate winner of the Label. The film takes place in a Damascus apartment, and we see the micro-society in the apartment trying to deal with the horrors of the war in Syria raging outside by clinging on to the reassuring domestic routines of life.
"Despite its very specific setting, though, the film will give European audiences the opportunity to experience the devastation and moral dilemmas that ordinary people experience in a war situation. The performances, camerawork and editing are especially strong and contribute particularly to this immersive and visceral film."
Films Boutique is handling international rights on the title.