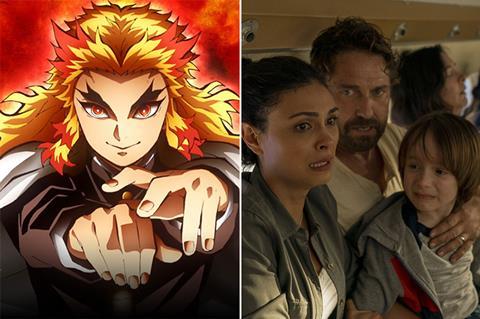 Demon Slayer posts strong hold with $37m second session
Japanese anime Demon Slayer The Movie: Mugen Train delivered a strong second session in Japan for joint distributors Toho and Aniplex – an estimated $37m for the weekend period, which is a decline of just 16% from the debut frame. The manga adaptation has rapidly built a total of $102.5m after just 10 days.
Mugen Train (aka Infinity Train) also delivered a stellar result for Imax, with second-weekend takings of $2.06m, down just 8% from the opening session. Total for Imax on the title after 10 days is $5.7m, which is 5.54% of the film's total.
The film is adapted from Koyoharu Gotoge manga Demon Slayer: Kimetsu No Yaiba, having previously been adapted into a 2019 TV series. Both the series and the film are directed by Haruo Sotozaki.
Mugen Train was beaten at the global box office at the weekend by The Sacrifice's estimated $53m debut in China. Top film at the US box office at the weekend was Liam Neeson actioner Honest Thief, with just $2.35m.
Tenet posts $3.3m weekend in international markets
Christopher Nolan's Tenet grossed an estimated $3.3m in its ninth session internationally, down from $5.2m for the previous weekend. The decline of 44% is steeper than the 35-36% weekend-to-weekend drops witnessed recently.
International cumulative total for the Warner Bros release is now an estimated $289m, and the global tally (including North America) is $341m. Imax screens account for $32.7m internationally – ie 11% of the total.
In cumulative totals, the film's international league table sees China ($66.3m) firmly lodged at the top spot, but Japan ($23.1m) has now leapfrogged both UK and Ireland ($22.4m) and France ($22.3m) for second place. Germany ($18.8m) is in fifth, and South Korea ($15.1m) in sixth.
In the Netherlands, where Tenet box office fell just 10% at the weekend, the film's $8.6m haul so far is ahead of the lifetime totals of both Interstellar ($4.7m) and Dunkirk ($8.1m), and is even ahead of Nolan's Batman films such as The Dark Knight ($7.3m) and The Dark Knight Rises ($7.8m). Inception remains Nolan's biggest hit in the Netherlands, with $9.7m.
Next territories to release Tenet are Brazil and Panama on October 29, with 18 more to follow, including Argentina, India, Indonesia and the Philippines.
Greenland tops Germany and South Africa box office
Gerard Butler action thriller Greenland opened in two new international markets at the weekend – Germany and South Africa – topping the box office in both of them. In Germany, local distributor Tobis achieved an $897,000 debut from 517 sites with the title. In South Africa, the release into 106 locations was the widest since cinemas reopened in the region, achieving a debut of $68,000 including previews.
In Italy, Greenland grossed $278,000 for Lucky Red, achieving third place, behind two new releases: Vision Distribution's Italian footballer documentary My Name Is Francesco Totti ($779,000 including previews) and Eagle Pictures' Out Of My League (aka Sul Piu' Bello, $388,000). In Italy, cinemas have been ordered closed again from today (Monday October 26).
In Germany, Greenland led the field ahead of two local family films: Warner Bros' Jim Button And The Wild 13 ($577,000), and Constantin's Dragon Rider ($424,000). Next come two titles from Studiocanal: local comedy Es is tzu Deinem Besten (which is a remake of 2017 Spanish comedy Es por tu bien, grossing $416,000) and family classic The Secret Garden ($393,000). Among these top five titles, the Jim Button sequel leads the field in terms of cumulative box office, with $5.31m after four weeks.
The estimated weekend total for Greenland was $1.94m, taking the international total to $33.6m. This coming weekend, the film opens in Austria and Swiss-speaking Germany.
Ric Roman Waugh (Butler's Angel Has Fallen) directs the story of a family fighting for survival as a comet races to Earth.
Bye Bye Morons tops France box office
France enjoyed a strong session for the latest five-day box office period, energised by the release of local comedy-drama Bye Bye Morons (Adieu Les Cons) and family film Poly, plus strong holds for both 30 Jours Max (last week's chart-topper) and Trolls World Tour. All four of these titles delivered admissions above 300,000 for the five-day period beginning Wednesday, October 21.
Albert Dupontel directs, writes and stars (alongside Virginie Efira and Nicolas Marié) in Gaumont's Bye Bye Morons, which led the field with 475,000 admissions. Next came Studiocanal's 30 Jours Max with 382,000 – a 2% rise on its opening session. Universal's Trolls World Tour rose by 20% to 336,000 admits for third place. SND's Poly – the adventures of the titular Shetland pony, adapted from the novels by Cécile Aubry, and from Belle And Sébastien director Nicolas Vanier – landed in fourth place, with 334,000.
Three more new films landed in fifth, sixth and seventh place in the chart, bringing a major refresh to the French Top 10: Studiocanal animation Little Vampire, ARP Sélection's Korean zombie actioner Peninsula (aka Train To Busan: Peninsula) and Warner Bros comedy Miss – starring androgynous model Alex Wetter as a man who sets his heart on winning the Miss France title. These three titles debuted respectively with 108,000, 84,700 and 78,500 admissions – significantly behind the top four films.
After We Collided stronger in Europe than in US
Voltage Pictures' After We Collided grossed an estimated $1.01m internationally in its eighth session, bringing the international total to $47.5m. The film also opened in the US at the weekend via Open Road – simultaneously on VoD and in cinemas – achieving an estimated $420,000 from 460 sites, and eighth place in the domestic box office chart.
The US number is very similar to the top result internationally at the weekend: $425,00 in the Netherlands, where After We Collided is now in its third week of play. Total in the Netherlands is $2.24m.
Last year, After – the first film to be adapted from Anna Todd's novel series – grossed $12.1m of its $70m global total in North America. For the sequel, After We Collided enjoyed a regular theatrical release in Canada via VVS Film, grossing $1.22m so far. The day-and-date US release theatrically and on VoD will presumably hold back the cinema box office for After We Collided in the territory, but with a big win for online transactions.