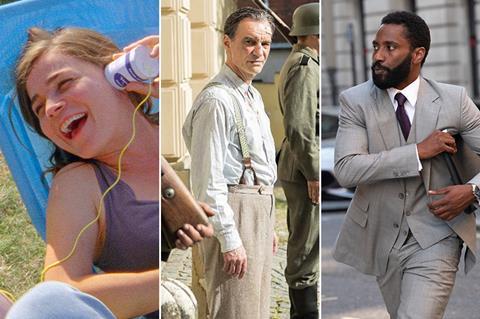 French local titles survive onslaught of Tenet
With Tenet arriving last week in 678 French cinemas, the Warner Bros release made a noisy splash in the marketplace, achieving 810,000 admissions for the five-day opening period (August 26-30), including previews from August 24-25. That's by far the biggest opening total for a film since Covid struck, and is the biggest for a single title in a single frame since Star Wars: The Rise Of Skywalker delivered 850,000 admissions over the January 1-5 reporting period (in its third week of release).
Despite the success, Tenet did not suck all the air out of the marketplace. Landing in second place with 214,000 admissions is Benoit Deléphine and Gustave Kervern's Berlin Silver Bear-winning comedy Delete History (aka Effacer L'Historique), from Ad Vitam. Other than Tenet, no film has achieved that many admissions in a single five-day period in France since early March, before cinemas shut down with the Covid pandemic.
In third place, family comedy Les Blagues De Toto saw admissions rise by 1% at the weekend, to 145,000, yielding a 26-day total of 809,000 for SND. Disney's The New Mutants is in fourth place with 131,000 admissions from 412 cinemas.
In total, the top 10 titles delivered 1.68m admissions, which compares with 1.93m admissions for the top 10 titles in the same late-August session a year ago. While that's a 13% drop year-on-year, for French cinemas to be experiencing a reporting period with admissions that are comparable to 2019 will be a source of great encouragement.
Family comedies rise in UK
The arrival of Tenet in the UK and Ireland marketplace saw more cinemas reopen for business – giving a particular boost to family comedies that can play morning and daytime slots on screens showing Tenet. Pixar animation Onward grossed £185,000 for the weekend period, up 30% on the previous session. Disney's film has now grossed £6.65m, which compares with £5.27m it had accumulated prior to cinemas closing in March. Onward transitioned to premium VoD in the UK on May 4, and to physical formats on June 1, so the £1.38m it has grossed in UK cinemas since lockdown lifted has been achieved despite the film's availability in the home.
Vertigo's animation 100% Wolf saw UK box office rise 32% at the weekend, grossing £139,000 in its fifth week of release. Total is now £827,000. Vertigo's Pinocchio declined a mild 6%, bringing its total after 17 days to £555,000.
As previously reported in Screen, Tenet grossed £3.27m in the UK for the weekend period, and £5.3m for the five-day period beginning last Wednesday. The international total is $54m.
Greenland holds in Russia, Belgium and Scandinavia
While family films may have peacefully coexisted with Tenet in the marketplace, the same might not be expected for Gerard Butler action thriller Greenland, targeting the adult audience. Greenland did indeed suffer some notable drops: down 63% in Taiwan, for example. However, STX's film also saw some strong holds, declining just 4% in Russia, with $369,000 in its second session, and a total after 10 days of $1.06m for local distributor Top Film.
Belgium did even better percentage-wise, rising 11% from the previous weekend. After four weeks of play, Greenland has delivered $478,000 in the territory.
Scandinavia was strong, with declines of 13% in Sweden, 12% in Denmark and 29% in Norway. After 17 days of play, Greenland has delivered $1.3m in the region for AB Svensk.
International total for Greenland at the weekend was $1.4m, down from $2.25m the previous session. Cumulative total internationally is $10.3m. Next to open are Greece (September 10) and Vietnam (September 11). Ric Roman Waugh (Angel Has Fallen) directs the story of a family fighting for survival as a comet races to Earth.
Unhinged drops 40% across international market
Adding only French-speaking Switzerland as a new market at the weekend, road-rage thriller Unhinged suffered an average 40% drop, reports Solstice Studios. The violent film starring Russell Crowe and Caren Pistorius is closing in on $12m internationally, having grossed an estimated $1.2m for the weekend period across 27 international territories. France led the way at the weekend, with $536,000 in its second session, a drop of 40%, and a $1.64m total. In cumulative box office, Australia remains the top market, with $2.28m for StudioCanal. In third place, just behind France, is UK with $1.62m for Altitude, then Netherlands with $1.39m for The Searchers, and Germany with $1.19m for Leonine. Hong Kong is the next territory to open, welcoming Unhinged this Thursday (September 3).
Agnieszka Holland scores hit in Czech Republic
Agnieszka Holland's Charlatan has scored a hit in its first market to release, Czech Republic. The veteran Polish director's film is a biographical drama about Czech herbalist Jan Mikolasek, who helped millions using plant-based remedies during the Nazi occupation and Communist rule. Charlatan, which premiered in the Berlinale Special in February, opened in Czech Republic on August 20, scoring a four-day total of just over 60,000 admissions from 221 cinemas – the widest opening for a film in Czech Republic of all time. To put the admissions number in some context, Tenet just opened there with 41,000 admissions.
For its second weekend of release, Charlatan scored 38,000 admissions, bringing the total after 11 days to 131,000 admits. The film has sold to territories including France (KMBO), Spain (Vercine), Italy (Movies Inspired) and Australia (Vendetta Films), with releases likely to be early next year.
Holland recently scored a hit in France with her previous film Mr Jones, which achieved 220,000 admissions for distributor Condor Entertainment. The biographical drama was one of the first non-French titles to find success in France following the reopening of cinemas on June 22 – released there under the title L'Ombre De Staline.