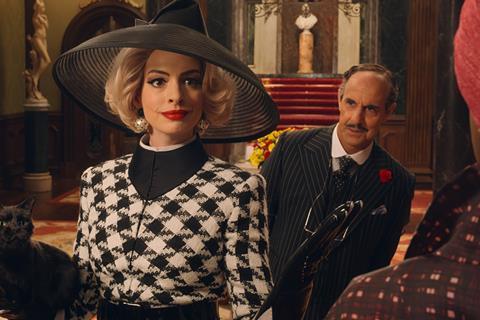 'The Witches' posts $3.5m in second session
With cinemas now closed again across most of Europe, Warner Bros will be pretty happy with a decline of just 29% for The Witches in its second session. Robert Zemeckis's new version of the Roald Dahl tale grossed an estimated $3.5m from 26 international markets (down from $4.9m for the opening weekend), and $10.1m after 10 days of play.
Russia was once again the top territory, with an estimated $869,000 at the weekend, followed by Mexico with $515,000 and Taiwan with $491,000.
Germany – the fourth-best market on opening weekend – was not in the running this time, due to government-mandated cinema closures, but the film was boosted by openings in fresh territories such as Taiwan and Thailand.
The comedy fantasy – which is co-written by Zemeckis, Black-ish creator Kenya Barris and Guillermo Del Toro, and stars Anne Hathaway, Octavia Spencer and Stanley Tucci with narration by Chris Rock – premiered on HBO Max in the US, and is available via premium VoD in the UK. The next major market to open will be Brazil on November 19.
'Demon Slayer' pushes towards $200m in Japan
Japanese anime Demon Slayer The Movie: Mugen Train achieved another strong hold in its home territory Japan, with an estimated $17m for the official weekend period (which is just Saturday and Sunday in Japan). This compares with $24m for the same two-day period the previous week, a decline of 29%. The manga adaptation now stands at $198m after 24 days for distributors Toho and Aniplex.
At IMAX cinemas, Mugen Train (aka Infinity Train) dropped just 24%, for fourth-weekend takings of $1.44m and an IMAX total of $12m.
The film – which is adapted from Koyoharu Gotoge manga 'Demon Slayer: Kimetsu No Yaiba', and is directed by Haruo Sotozaki – is chasing Spirited Away in Japan's all-time box office rankings. The Studio Ghibli classic grossed ¥30.bn in Japan in 2001 which is $290m at current exchange rates.
Demon Slayer, now in its second weekend of play in Taiwan, was boosted by its arrival on IMAX screens there, grossing $343,000 from nine IMAX locations – a site average of $38,000. This is the biggest IMAX opening of the year in Taiwan, and is 16% ahead of Tenet's IMAX debut. Across all cinemas in Taiwan, Demon Slayer grossed $3.7m, bringing the total after two weekends to $9.6m.
'Rams' and 'Honest Thief' joined by 'Radioactive' at Australia box office
Studiocanal's Radioactive was the highest new entry at the Australian box office, landing in third place, behind Rams (in its second week of play) and Honest Thief (in its third). Rams, a local remake of Icelandic director Grimur Hakonarson's 2015 hit about two estranged sheep farmer brothers, fell by just 17% in its second session, with four-day (Thursday-to-Sunday) weekend takings of A$673,000 ($490,000) from 242 cinemas, taking the total to A$2.21m ($1.61m) for distributor Roadshow.
Cinemas in Victoria reopen this week, and Rams is adding 60 new sites in the state from this Thursday, going into the third week of play. Rams stars Sam Neill, Michael Caton and Miranda Richardson, and is directed by Jeremy Sims.
Liam Neeson crime thriller Honest Thief likewise achieved a strong hold, down just 7% with weekend takings of A$474,00 ($345,000) and a total after three weekends of Aus$2.00m ($1.46m) for distributor Rialto.
Radioactive – Marjane Satrapi's biographical drama about scientist Marie Sklodowska-Curie, starring Rosamund Pike – debuted with A$178,000 ($130,000) from 169 sites, with previews bringing the total up to A$207,000 ($151,000).
Universal's Trolls World Tour, now in its eighth week of release in Australia, added another A$169,000 ($123,000) for fourth place, and a total of A$7.53m ($5.48m), with Sony's The Craft: Legacy rounding out the top five with Aus$161,000 ($117,000).
In New Zealand, Honest Thief stayed top in its third session, with four-day weekend takings of NZ$130,000 ($89,000) for Rialto, and a total of NZ$561,000 ($382,000).
'Tenet' passes $350m worldwide
Christopher Nolan's Tenet grossed an estimated $1.2m in its 11th session internationally, a 54% drop from the previous weekend – and impacted by cinema closures across Europe. International cumulative total for the Warner Bros release is now just shy of $300m, and the global tally (including North America) is $351m. IMAX screens account for $33.7m internationally – ie 11% of the total.
Top international markets for Tenet at the weekend were Japan and Brazil – the latter in its second week of play. Totals so far for those markets are $24.9m for Japan (the second-best international territory after China) and $609,000 for Brazil.
There are still 16 territories to release the film, including Argentina, India, Indonesia and the Philippines.