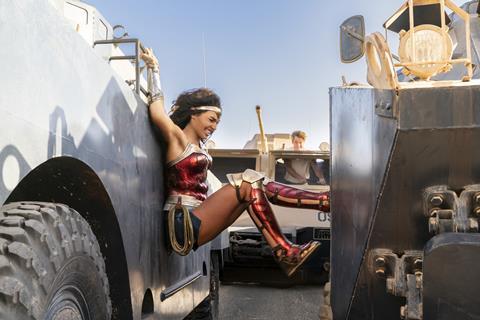 'Wonder Woman 1984' hits $90m in international markets
A robust performance in Australia helped Wonder Woman 1984 achieve an estimated $10.1m at the international box office for the first weekend of 2021, taking the international total to $90m. The Warner Bros/DC Films sequel also grossed an estimated $5.5m in North America at the weekend, and the global tally stands at $118.5m after three weekends of play.
The overall decline from the previous weekend in international markets was 46%. In Australia, where Wonder Woman 1984 grossed Aus$4.2m ($3.2m), the decline from the previous weekend – which was its opening session – was just 16%. Total in Australia after 11 days is Aus$15.2m ($11.5m), which is 43% ahead of Wonder Woman at the same stage of its run in 2017.
Imax screens account for $7.6m so far in international markets, which is 8.4% of the total.
In the international league table of cumulative totals for Wonder Woman 1984, Australia ranks second, after China ($25.0m), and ahead of Taiwan ($8.1m), Japan ($4.4m), Brazil ($3.8m), Korea ($3.7m), Singapore ($3.6m) and Mexico ($3.5m).
Next comes Spain, which with $3.3m is the top European market. Although cinemas in Spain are operating with restrictions, that's a rosier picture than exists in other key European territories such as UK, Germany, France and Italy.
Wonder Woman 1984 faced fresh challenges in Latin America at the weekend: in Brazil, Sao Paulo (which had accounted for 38% of the film's gross on opening weekend) saw cinemas ordered closed. In Mexico, venues in nine out of 32 states are currently closed, and Mexico City has mandated that cinemas remain closed until January 10.
The original Wonder Woman grossed $409m in international markets, beginning May 30, 2017, and $413m in North America for an $822m global total. The next key market to release Wonder Woman 1984 is Russia, on January 14.
'The Croods: A New Age' boosted by strong holds in international markets
The Croods: A New Age grossed an estimated $7.6m from 17 international markets at the weekend, taking the international total to $80.4m. In holdover markets, the film rose 13% from the Christmas weekend box office. Adding in the North America tally of $34.5m, the global total is now an estimated $115m.
Russia/CIS provided the top market for Universal's release of the Dreamworks Animation sequel, rising 28% from the opening to add $2.3m. Australia also saw a strong rise, adding $2.1m. Ukraine provided a new opening for the film, which began there with $635,000 including previews.
In cumulative totals, China remains out in front, with $52.5m – which is 65% of the international number and 46% of the global tally.
Australia and Russia have delivered $7.0m and $6.2m respectively, while Spain has reached $3.2m and Mexico $2.6m. Key markets including Brazil, France, Germany, UK, Italy, South Korea and Japan are yet to release, with many release dates awaiting confirmation.
In 2013, The Croods grossed $187m domestically and $400m internationally (via 20th Century Fox) for a $587m worldwide total.
Local hit 'The Dry' adds to strong weekend at Australia box office
Wonder Woman 1984 and The Croods: A New Age are not the only films scoring at cinemas in Australia. While those two US titles performed impressively with Aus$4.16m ($3.21m) and Aus$2.78m ($2.15m) respectively at the weekend for Warner Bros and Universal, Roadshow release The Dry was close behind The Croods, with Aus$2.61m ($2.02m), and Aus$3.23m ($2.49m) including previews.
Eric Bana stars in this adaptation of Jane Harper's 2016 bestselling debut novel about a federal police agent returning to a struggling farming community for the funeral of his childhood best friend. Robert Connolly (2014's Paper Planes) directs and co-writes the screenplay. Bruna Papandrea, Steve Hutensky and Jodie Matterson produce for Made Up Stories (The Nightingale, Little Monsters).
Sony's videogame adaptation Monster Hunter landed in fourth place in Australia, with Aus$878,000 ($678,000). Universal's The War With Grandpa, now in its fifth week of release, rounds out the top five with Aus$609,000 ($470,000).