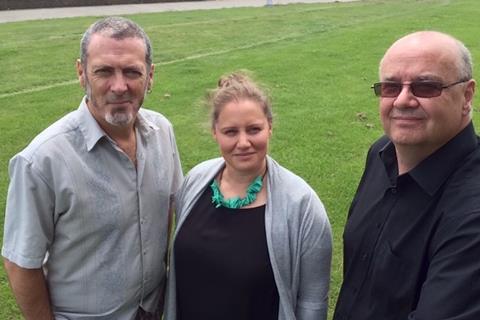 Ireland's Fantastic Films, whose credits include Cannes titles Last Days On Mars and Vivarium, is planning its first foray into TV with zombie apocalypse story Zom-B by Irish author Darren Shan.
Fantastic is developing the series with London-based Electric Shadow Company, with development support from Screen Ireland.
The Zom-B series of 12 books is told in the first person by a teenage girl who discovers the sinister truth behind the outbreak.
The move into episodic work was revealed at a Glasgow Film Festival industry talk this week by Fantastic Films co-heads Brendan McCarthy and John McDonnell.
McDonnell explained, "It's interesting to tell slightly longer stories…We enjoy the feature format, but there are some stories that just benefit from that longer form, that has an excitement to itself."
Fantastic's new film projects include Dr. Glass, written by Stuart Paterson and to be directed by Aisling Walsh (Maudie). Based on the Swedish novel by Hjalmar Soderberg, the story follows a doctor in 1905 Stockholm who falls in love with a married woman.
Dr Glass will be co-produced by Sweden's Bright Pictures, with Scotland-based Makar Productions and Germany's K5 Film. The development partners have been Creative Scotland and Screen Ireland.
Additionally Glenn McQuaid, whose credits include I Sell The Dead, has signed to direct The Restoration At Grayson Manor, described as the 'world's first severed hand gay horror'. It is being developed with Screen Ireland
Also on the feature slate at Fantastic is Alan Friel's post-apocalyptic clone story' Woken, that is also being developed with Screen Ireland.
The third producer at Fantastic is Deirdre Levins, who is gearing up for the shoot of You Are Not My Mother to be written and directed by Kate Dolan. That film is backed by Screen Ireland's POV scheme.
Genre success
Dublin-based Fantastic Films has a clear USP, said McDonnell. "The two genres that we are absolutely both passionate about are science fiction and horror." Dr. Glass will be a rare drama for the company.
McCarthy noted the company's success so far was helped because the Irish Film Board, now Screen Ireland, had been an early industry supporter of genre films. He said, "The Irish Film Board since the early 2000s have been quite open to the idea of genre films. The first big one was Dead Meat (2004) which was made for a very low budget but did very well."
Now the wider market has caught on to the crossover potential of independent genre films. "Films like Border or Let the Right One In have done an awful lot for making people realise there is art in a genre film," McDonnell added.
"Our films have crossed that boundary as well, we've had films in Sundance several times, and we were delighted that Vivarium was the first Irish film in Cannes Critics Week since 1968."
Of course, they noted that things have changed in the industry since the company started 20 years ago. "The world has become more open [to genre films] but of course the DVD market is gone. We're still conscious that there is a core audience that want to see these films. There is no such thing as saturation for this audience," McCarthy said.
Both producers understand that audience because, as McDonnell said, "We ARE that fan." Both also have MAs in Screenwriting, which is a hidden asset that serves them well as creative producers.
Benefits of co-production
The Glasgow talk, part of MEDIA Case Studies, organised by Creative Europe Desk UK - MEDIA in Scotland, in collaboration with FOCUS – emphasized the importance of co-production for Fantastic Films.
McCarthy noted: "We have to co-produce everything in Ireland because the domestic market is so small, it's about 4.8m people. But Screen Ireland is pretty generous if they get behind a film, and we have our tax break. But we need one, two or three partners depending on what you're doing. The sales agents and distributors, because the market is rather chaotic, have become more risk averse. So they like to see more soft money in a project."
The only disadvantage to co-producing is the paperwork, they noted. "One of the biggest problems is that Ireland is locked into the Anglo Saxon business/legal system and that doesn't match easily with much more light touch contracting that you would find in the Nordic countries. Their agreements are two to three pages as opposed to the huge documents we have," McCarthy added. "The devil of all devils is the interparty agreement which is like 600 pages."
Fantastic is screening two recent co-productions at the Glasgow Film Festival: Neasa Hardiman's Sea Fever, an Ireland–Sweden-UK co-production; and Lorcan Finnegan's Vivarium, an Ireland-Belgium-Denmark co-production.
Having plenty of soft money involved has its advantages, the producers explained. For instance, Toni Collette had been attached to Sea Fever but had to leave the project. If the financing was primarily private equity the backers might have pulled out. McDonnell said, "It's one the of huge advantages of financing what how do. Losing cast happens all the time, yet we don't have that thing where you lose a certain actor, and all the partners pull out. Co-production is another stamp of approval for your project, in a territory where you are hoping to release the film."
McCarthy said it helps they have found the right partners: "All our co-producers are genre heads, we're all trying to make the same film."
The pair were bullish on working with the UK, particularly with Scotland, and had encouraging words for producers in the room in a week when it was announced that the UK will leave Creative Europe at the end of 2020 (and there is no word yet if the UK will rejoin the Council of Europe's co-production fund Eurimages, of which Ireland is a member).
McDonnell noted Fantastic Films has already co-produced with Scotland-based UK companies three times (Outcast, Let Us Prey, Sea Fever) and frequently worked with Scottish crew even on non-UK productions.
McCarthy said: "There is a little doom and gloom that Creative Europe won't continue, but the UK will remain a signatory of the European Convention on Co-production. This is extremely important, there is not a wall being built up around you, you can still co-produce."