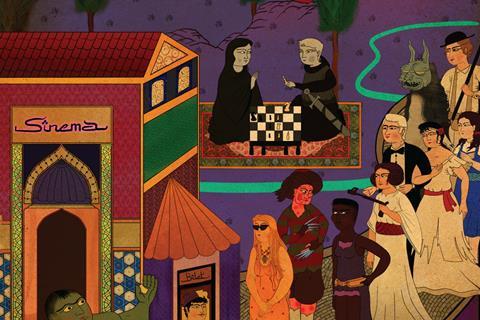 The 13th edition of Meetings on the Bridge, the industry section of the Istanbul Film Festival, has presented a series of cash prizes to a raft of projects in development and in post-production to features by new and estblished filmmakers from Turkey, Azerbaijan, Georgia, Iran and Syria.
Nearly 100 international industry professionals attended the event's Film Development Workshop that showcased 17 feature projects and the Works In Progress event that provided a platform for six features in post-production.
They included Film Development Workshop jury members Vincenzo Bugno (Berlinale / World Cinema Fund), Rickard Olsson (Picture Tree International), Zsuzsanna Kiraly (Komplizen Film), Teresa Hoefert de Turegano (Medienboard Berlin Brandenburg) and Giovanni Robbiano (MFI).
The Works In Progress Workshop jury was comprised of Kerri Craddock (Toronto International Film Festival), Meinhof Zurhorst (ZDF) and Ioanna Stais (Heretic Outreach).
Full list of awards:
Film Development Workshop
Meetings on the Bridge award (30.000 TL)
Normal
Director: Ali Kemal Çınar
Producer Sinan Yusufoğlu
Co-producer Nesra Gürbüz
CNC award (Euros 8,000)
New Dawn Fades
Director: Gürcan Keltek
Producer: Arda Çiltepe
Melodika Sound Award
The List Of Those Who Loved Me
Director: Emre Erdoğdu
Producers: Zeynep Kora and Emine İzmir
GeniusPark Special Effects Award
A Day Or Part Of A Day
Director: Burak Çevik
Producer: Selman Nacar
Mediterranean Film Institute (MFI) Script and Development Workshop Award
My Brother's Army
Producer: Adam Isenberg
Transilvania Pitch Stop Award
Everything In Its Right Place
Producer: Engin Palabıyık
Director: Berrak Çolak
Postbıyık Sound Production Award
The Empty House
Director: Rati Tsiteladze
ProducerL Nino Varsimashvili
Works in progress awards
Color Up Award and Key Art Design Award
Self
Director: Ali Vatansever
Producer Selin Tezcan
The Başka Sinema award
The Pigeon Thieves
Director Osman Doğan
Producers: Sinan Sertel and Turgay Şahin
The Paz Digital Communication award
Siren's Call
Director: Ramin Matin
Producer: Emine Yıldırım
The 13th edition of Meetings on the Bridge was held from 6– 14 April 2018 within the 37th Istanbul Film Festival. The Meetings on the Bridge awards ceremony was held at a reception hosted by l'Institut Français.