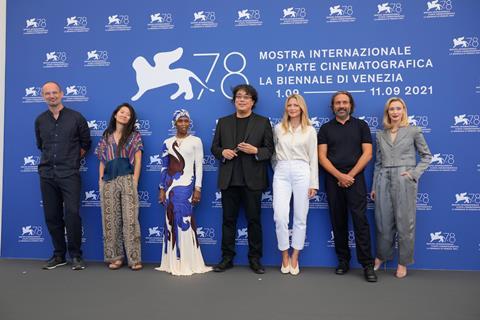 The second physical Venice Film Festival of the pandemic era opens today with the world premiere of Pedro Almodovar's Parallel Mothers tonight.

There is the sense among festival attendees that life is beginning to return to normal even if the global health crisis is still ongoing and the industry will have to learn to live with the impact of Covid-19.
"It's a bigger edition than last year, in terms of films and the delegations accompanying them," said Roberto Cicutto, president of the Venice Biennale.
Key restrictions and health protocol measures include a 50% screening capacity and all public and professional attendees must show a so-called green pass, proving they are either fully vaccinated or have tested negative for Covid-19.
The edition promises nonetheless to be one of the starriest in years, even by pre-pandemic standards. Early arrivals include Penelope Cruz and Rossy De Palma for Parallel Mothers and Isabelle Huppert for Horizons opener Promises.
A raft of stars is confirmed to follow in their wake including Kristen Stewart for Spencer, Ben Affleck for The Last Dual, Jessica Chastain for Scenes From A Marriage, Maggie Gyllenhaal, Olivia Coleman and Dakota Johnson for The Lost Daughter and Timothée Chalamet, Zendaya and Javier Bardem for Dune.
The red carpet will be a muted affair, however, due to the construction for the second year running of a high white partition to discourage bystanders from gathering ahead of gala screenings. The health restrictions also mean the traditional opening night dinner on the beach of the Excelsior Hotel will not take place again. The juries, opening film delegation and select guests will instead be treated to a more intimate dinner created by local celebrity chef Tino Vettorello.
However, the wider party scene does appear to be slowly taking off again with a handful of glitzy gala events planned to take place on the Venice mainland, although film receptions are expected to remain low key.
In spite of the inconvenience of having to show a green pass, the public has also returned in higher numbers. Italian news agency Ansa reported last week (August 24) that around 90 of the 200 public screenings were already sold out with 20,000 of the 28,000 available public tickets snapped up within days of box office opening in mid-August.
The hottest ticket is Denis Villeneuve's Dune which sold out within minutes of going online, prompting festival director Alberto Barbera to take to Twitter to express his regret that "so many who had been disappointed".
The return of the A-list stars goes hand in hand with the return of the US platforms and studios, with Netflix particularly out in force with competition titles, Jane Campion's The Power Of The Dog and Paolo Sorrentino's The Hand Of God.
"It's clear we're living through a moment of transformation and that the reality we'll face when we return to some sort of normality will be very different from before," said Barbera of the strong presence of Netflix-backed films at the festival. "I don't think the theatres will disappear. I believe we're going towards a double system of distribution and that new rules will be forged… These will be the fruit of negotiations between the interested parties. We at festivals, like the spectators, can only observe what is going on, hoping that the choices go in the right direction to strengthen the cinema."
"The life force of cinema"
Barbera was talking at the opening press conference where he was joined by the competition jury president Bong Joon Ho, Horizons' jury president Jasmila Zbanic and last year's recipient of the Luigi de Laurentiis award for a debut film, Uberto Pasolini.
Cannes habitué and Golden Palm winner Bong, who makes his Venice debut this year, recalled how the festival's 2020 edition had marked a turning point in the pandemic for the cinema community when it took place last year. "Filmmakers in Korea and the rest of the world had a very tough time this year and last year but looking back on it, it feels like a test which showed the life force of cinema. Last year, Venice showed what a festival could be… As a filmmaker, I don't think the history of cinema can be stopped so easily… Covid will pass and cinema will continue."
He said he hoped the "different universes" of his co-jurors – 2020 Golden Lion winner Chloé Zhao, Italian director Saverio Costanzo, Belgian actress Virginie Efira, UK actress and singer Cynthia Erivo, Canadian actress Sarah Gadon and Romanian-German documentary director Alexander Nanau – would make for an "explosion" and joked maybe some "fighting" when it came to the deliberations.
Zhao, who was unable to make it to Venice for the world premiere of Nomadland in competition last year or the awards ceremony when it clinched the top prize, said she was "honoured" to finally make it as a jury member. "It's my first time in Italy," she revealed. "I was devastated not to be here last year. To be able to come back to serve on a jury under Bong is an honour."