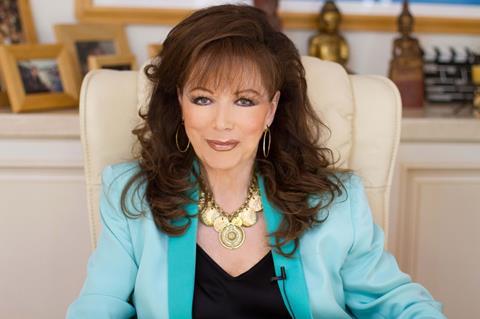 AGC Studios, CNN Films, and the BBC Arts are co-financing Lady Boss: The Jackie Collins Story from Passion Pictures.
Laura Fairrie directs the documentary about the late, bestselling British author and unlikely feminist Jackie Collins, the former B-movie actress who moved from London to Los Angeles in the 1980s, published dozens of bestsellers and lost the two loves of her lives, before ultimately succumbing to cancer in 2015.
John Battsek and Lizzie Gillett of Passion are producing Lady Boss: The Jackie Collins Story, which AGC International will sell globally and introduce to buyers once the film is expected to be completed in autumn.
CNN Films retains North American broadcast television rights, and BBC Arts will retain broadcast television for BBC Two on terrestrial television, and catch-up VOD rights in the UK on BBC iPlayer.
AGC Studios chairman and CEO Stuart Ford serves as executive producer alongside CNN worldwide executive vice-president for talent and content development Amy Entelis, vice-president for CNN Films Courtney Sexton, BBC Arts commissioning editor Mark Bell, and Rachel Traub.
AGC and CNN Films recently announced their collaboration on the Civil Rights documentary about Congressman John Lewis, which they are co-financing with Trilogy Films and Color Farm Media, and licensing internationally.
Traub negotiated the Lady Boss: The Jackie Collins Story deal with and AGC's vice-president of legal and business affairs Anant Tamirisa, Battsek, CNN's Sexton and Stacey Wolf, vice-president for business affairs. Bell oversaw for BBC Two.