AUGUST 1 UPDATE: Disney/Pixar's Finding Dory swims past $800m worldwide to become fifth highest grossing film of the year to date.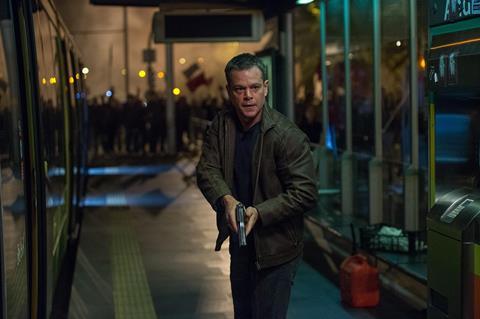 UNIVERSAL PICTURES INTERNATIONAL
UPDATE: Powering into 48 international markets day-and-date with North America, Jason Bourne muscled to a $50.7m debut.
The action sequel led the chart in 27 territories, propelled by the biggest opening of the franchise in South Korea with $11.3m from 349 dates and the UK with a five-day $10m bow from 545 dates.
Other highlights included the biggest Bourne opening in Australia with a chart-topping $5.8m from 281 dates, and the film also debuted at number one in Taiwan and Spain with $2m and $1.9m, respectively.
Jason Bourne has 20 more territories to release, starting with Argentina, Egypt, India and Slovenia next weekend. China opens on Aug 23, Mexico on Aug 26 and Russia on Sept 1.
Illumination Entertainment and Universal Pictures' The Secret Life Of Pets continued its international run with a $30.1m weekend from its 21 territories for $99.5m to date.
Mexico provided the biggest opening for the animation this weekend with a number one bow of $7.6m, marking the biggest opening ever for an original animated film surpassing Inside Out.
Germany and France also got off to strong starts with $7.1m and $5.9m, respectively, while the UK held firm in its sixth week with $956k for an excellent local running total of $41m.
The Secret Life Of Pets lands in China this Tuesday [Aug 2], one of 48 territories still to open over the next few months.
Opening in Italy with $665k, Blumhouse Productions and Platinum Dune's The Purge: Election Year added $3.2m from its 30 territories for $17.6m so far, with 12 territories still to open.
New Line and Universal's action-comedy Central Intelligence has now shot to $77.5m overseas following a $2.6m weekend from its 50 territories.
DISTANT HORIZON
China Star's big budget fantasy League Of Gods, starring Jet Li, Tony Leung Ka-fai and Fan Bingbing, is off to an estimated $30.5m start at the international box office from its seven territories, according to ComScore.
IM Global will sell the project in Europe, Eastern Europe, Latin America, Japan, South Korea, Israel and the Middle East.
Sony Pictures Releasing International will distribute in North America, the UK, Australia, English-speaking Canada, the Philippines, Thailand, Vietnam, New Zealand and the West Indies.
Distant Horizon acquired international rights from Hong Kong-based China Star in Cannes.
WALT DISNEY STUDIOS MOTION PICTURES INTERNATIONAL
Having passed the $800m mark at the global box office on Thursday [July 28], Finding Dory now stands at $830.5m worldwide to make it the fifth highest grossing film of the year to date.
Overseas, Pixar's latest added $23.6m from its 46 territories for $361.5m to date. The bulk of its weekend haul came from an estimated $10.8m chart-topping bow in the UK, the second biggest opening Friday-Suday tally for Pixar in the market.
In Japan, Finding Dory remained the leading overseas release for the third consecutive weekend with a drop of only 6% and a local tally of $30.9m. Its next major opening comes in Italy on Sept 15.
WARNER BROS PICTURES INTERNATIONAL
UPDATE: The Legend Of Tarzan is nearing $200m at the overseas box office following a $22.8m weekend from its 64 markets for $189.5m.
Warner Bros/Village Roadshow's reboot swung into Germany and Japan with $2m and $1.5m, respectively, while it edged out Jason Bourne in the UAE with $1.6m from 130 screens.
Holdover-wise, it took $5.7m in China for $41.4m and retained the top spot in Brazil after a 34% drop saw it post $2.3m for $7.6m.
New Line's horror Lights Out scared up $8.4m from its 38 markets for an early $21.1m.
It creeped into Mexico with a $1.8m debut to chart second and surpass the debuts of the likes of The Boy and Poltergeist, while it dropped only 27% in Australia for a $608k second weekend and local tally of $1.7m.
Lights Out opens in Germany and Italy this Thursday [Aug 4].
Me Before You and The Conjuring 2 stand at $132m and $213.6m, respectively.
BLOOM MEDIA
UPDATE: From its four territories, Skiptrace added $27.3m from its four territories for $115.7m to date, with Malaysia, Indonesia, Bulgaria and Vietnam still to report.
Shanghai New Culture Media Group, Talent International and Dasym Media co-financed the film and Saban Films will release in the US.
FOX INTERNATIONAL
UPDATE: Ice Age: Collision Course rolled to an additional $20.2m from its 65 markets for $212.3m to date.
The animation opened in Poland ($1.7m) and Hong Kong ($898k), while it held well in the likes of Brazil ($1.6m for $19.2m), Germany ($1.6m for $19.1m) and Argentina ($1.3m for $14.5m).
Collision Course opens in nine markets next week, including the UAE, before releases in Italy on Aug 22 and China on Aug 23.
Falling only 32% for $1.9m and a local tally of $13.8m in Germany, Independence Day: Resurgence took $6m from its 50 markets for $270.8m so far, with a release in Italy to come on Sept 8.
Mike & Dave Need Wedding Dates and Absolutely Fabulous: The Movie stand at $11m and $21.6m, respectively.
SOUTH KOREA
Finecut's Korean War action film Operation Chromite, starring Lee Jung-jae and Liam Neeson, debuted top of the box office in South Korea with an estimated $14.7m bow.
Meanwhile, Cannes title Train To Busan, sold internationally by Contents Panda (NEW), sped to an estimated $12.6m second weekend for a terrific $55.7m to date.
PARAMOUNT PICTURES INTERNATIONAL
In its second weekend of release, Star Trek Beyond phased to an extra $13m from its 40 markets for an early $54.8m.
There were three new openings, but it was the holdovers that led the way with the UK delivering $2.9m for a ten-day tally of $13.3m and Germany taking $2.6m for $8.6m to date.
The sci-fi sequel opens in France and South Korea on Aug 18 and Spain a day later on Aug 19.
Teenage Mutant Ninja Turtles: Out Of The Shadows now stands at $154.9m ahead of its release in Germany and Austria on Aug 11.
SONY PICTURES RELEASING INTERNATIONAL
Opening top in Russia with $2.8m, Ghostbusters captured a further $10.7m for $52.1m to date, ahead of openings in Germany, France, Mexico and Spain over the coming fortnight.
Paul Feig's reboot also opened at number one in Italy with a $915k debut, while it took $1m for $7.9m in Australia and $785k for $12m in the UK, both after three weeks in play.
The Shallows bit into $1.3m from its 15 markets for $14.7m, with almost half of its weekend tally coming from an excellent $635k debut in Malaysia.
LIONSGATE INTERNATIONAL
UPDATE: Now You See Me 2 has surpassed the original's $235m overseas result following a $10.9m weekend from its 83 markets for $238.1m to date.
Summit Entertainment's sequel conjured with a healthy $5.2m to open second in France behind The Secret Life Of Pets, while it exceeded Now You See Me's debut in Belgium by 65% with a preview-boosted $737k start.
Worldwide, Now You See Me 2 stands at $302.7m in its quest to overhaul its predecessor's $351.7m global haul.
MISTER SMITH ENTERTAINMENT
UPDATE: In the UK, The BFG posted a second weekend of $4.3m for $19m to date. The total for the film's EMEA markets to date is $35.7m ahead of releases in Scandinavia and Norway next weekend.
STX ENTERTAINMENT
Releasing in 12 territories to go with its North American release, Bad Moms grossed an estimated $1.4m from its 914 locations.
Spain opened with $325k and Denmark provided $310k. The R-rated comedy lands in France and Belgium this week.