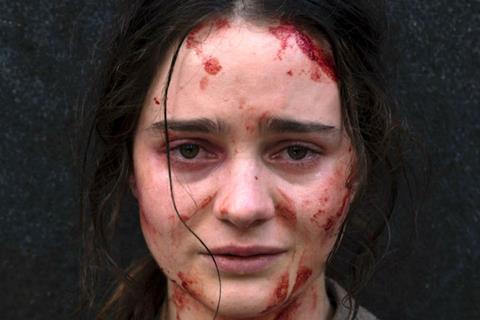 There may have been a four-year gap between Jennifer Kent's acclaimed 2014 debut feature The Babadook and her new feature The Nightingale, which is being sold at TIFF by FilmNation Entertainment, but the Australian writer-director won't be waiting so long before shooting her next projects.
Hot off The Nightingale's special jury prize at Venice (it also won the Marcello Mastroianni award for best young actor for Baykali Ganambarr), Kent is close to completing a new draft of the screenplay for her third feature, Alice + Freda Forever. The new project – backed by Sidney Kimmel Entertainment – is based on the true story of two young women who fall in love in Memphis, Tennessee, in the 1890s.
Kent is also busy preparing a US-set TV series, Tiptree, about science-fiction writer Alice Bradley Sheldon (aka James Tiptree Jr), which she describes as "a surreal trip". This will be made for Brian Kavanaugh-Jones' Automatik, with development financing from Imperative.
"I feel I am just gravitating toward projects I really love. They happen to be based on true stories set in America. It is just coincidence really," the filmmaker said of her decision to work away from Australia.
Shocking violence
The Nightingale provoked strong reactions when it premiered in competition in Venice last week as the only film from a woman director in contention for the Golden Lion. The blood-soaked, Tasmania-set period picture tells the story of a young Irish convict woman, Clare (Aisling Franciosi), who embarks on an epic journey inland in pursuit of the sadistic British officer (Sam Claflin) who has raped her and murdered those closest to her. She is desperate for revenge. Her Aboriginal tracker named Billy (Ganambarr) has also suffered extreme trauma at the hands of the British colonialists.
All the incidents depicted in the film, from the murders to the widespread sexual violence against women to the brutal suppression and abuse of indigenous people, have their basis in fact. "I am not making a historic documentary but I feel I really respected the period by researching it thoroughly," says Kent. "We had a number of historical consultants aboard and it is something I feel very proud of in terms of its accuracy."
Some viewers have recoiled at the violence but Kent is quick to point out that the film is not especially explicit in comparison with many mainstream Hollywood films. "[The violence] is shocking and it was very important for me to shown the true human cost - the fallout from that violence," she says. "In modern cinema, we have become anaesthetised to violence. In a blockbuster, you might see somebody's head explode. People get killed in really violent ways but because of the way it is approached, there is no fallout, no human cost. You don't see that person's loved ones. You don't have any connection to that person. It is just like a videogame. To me, that is very disturbing and much more irresponsible than what I am doing."
Kent also filmed the sexual violence in a way that ensured there was no possibility of it being considered titillating. "If a man directed it, might I be so bold as to say we would see bodies. I looked at every rape scene I could get my hands on. In every one, I was seeing semi-naked and naked women's bodies," Kent explains. "I was very careful to show all the faces. That's the difference between my approach and the man's approach. I am looking at it through the woman's eyes. Rape is not a sexual act, it is an act of power. That is the reality of sexual violence - it takes people's souls."
The Nightingale will be released in Australia by Transmission and is bound to provoke debate about the country's past, the arrogance of British colonialists and the continuing discrimination in the country against Aboriginal people. The release date will be set once the film has secured a US distribution deal. "There has been a lot of interest [from US buyers] but it requires a lot of care and really savvy marketing," Kent says.
Kent acknowledges the influence of Robert Hughes' book, The Fatal Shore, on her second film. "He wrote with such humour and such wit," she says. "I think the book is incomplete and tells mainly a masculine story. It focuses on the men who travel through our white history but it is also a seminal book. Its chapter on Van Diemen's Land really drew me to Tasmania."
There have been a number of earlier Australian films from white directors touching on Aboriginal experience, among them Walkabout, The Chant Of Jimmy Blacksmith and Rabbit-Proof Fence. Kent suggests that Nic Roeg's Walkabout was "a masterpiece" in filmic terms but also very naive in its representation of Aboriginal culture. "There is nothing mystical about it," she says. "It is a system that is very sophisticated. We don't understand it and so we consider it mystical."
Kent would never have embarked on The Nightingale if she hadn't had the blessing of her Aboriginal collaborators. She also made sure that they were involved "every step of the way" from first draft to final cut.
"I was not going to go in as a white filmmaker and repeat colonisation through the process of filmmaking," the director says of her insistence to secure the approval of the indigenous people whose story she tells. Kent is planning a special private screening for these collaborators in Tasmania.
She also paid tribute to her British star, Claflin, playing his most loathsome screen character, the endlessly sadistic and manipulative British officer Hawkins. "He really wanted the role," she says. "He really wanted to go there. That in itself demonstrates a courage I applaud."