The event will provide a platform for festival professionals to discuss key topics; delegates from Berlin, Sundance, Venice and Karlovy Vary expected to attend.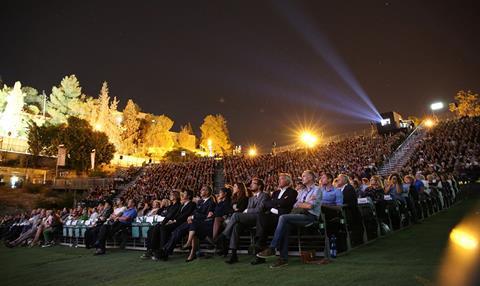 The Jerusalem Film Festival is launching a new industry initiative for its 2017 edition.
'Think Fest' will invite film festival professionals from around the world to participate in an event dedicated to providing a platform for discussion about the burning issues affecting the film festival business.
International festival directors, programmers and organisers will gather in Jerusalem for a three-day programme at the beginning of the festival, which will run July 13-23 this year.
Speaking to Screen, festival directors Noa Regev and Elad Samorzik said they believed there was a gap in the market for an event specifically focused on film festival workers.
They reported strong early feedback to the idea from festival professionals they had contacted, including representatives of Berlin, Sundance, Venice, Karlovy Vary, Sarajevo, Tribeca, Rotterdam, Istanbul and Sydney.
They commented: "After several years traveling the international festival circuit, we were struck by the number of industry events gathering international producers, distributors, sales agents and even filmmakers.
"On the other hand connections between film festival professionals seemed to be narrower and in large part based on personal relationships or very specific collaborations. So we felt the opportunity existed for a new platform to provide festivals with their own space for a wider ranging exchange, as well as to work on new synergies and promoting our mutual interests."
Key topics to be debated include:
What place do film festivals occupy in today's distribution landscape?
What role do film festivals have, or need to take, in defining the future of international arthouse cinema?
What challenges do festivals face in the context of the digital market and the increased impact of online streaming services?
What importance do premiere policies have on programming decisions?
Think Fest will be held as part of Jerusalem's Industry Days programme, which also includes the Jerusalem Pitch Point, a co-production platform promoting international collaborations and co-pros for new Israeli features. Additionally the Jerusalem Film Festival hosts the Sam Spiegel International Film Lab, which holds its final pitching event open to both international and Israeli projects, during the festival.
Industry guests who attended the 2016 edition of the festival included: Sony Pictures Classics' EVP Dylan Leiner, Celluloid Dreams president Hengameh Panahi, Protagonist Pictures head of sales Vanessa Saal, Rémi Burah, chief operating officer of ARTE France Cinéma, Venice Days head Giorgio Gosetti and Cornerstone Films' Alison Thompson.