Avishai Sivan's film project Lot's Wife has clinched the new $23,200 (€20,000) Goralska Award prize at the 13th edition of Jerusalem Film Festival's (JFF) Pitch Point event, which is aimed at connecting Israeli filmmakers with international partners.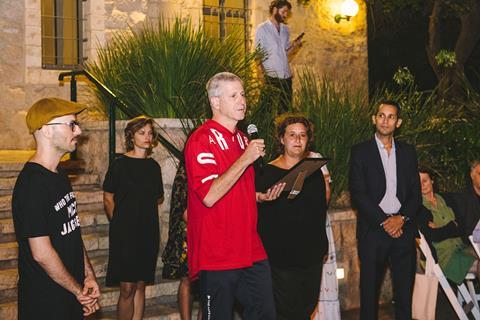 Described by the director as a cross-genre horror, fantasy, freak-show work, the picture revolves around a Hasidic couple's two-headed baby. Going by the names of Noah and Lot, the two heads have opposite good and evil natures. When the virtuous Noah dies and his head is detached, Lot tries to mend his ways.
It is Sivan's fourth fiction feature. His last film Tikkun, about an ultra-Orthodox man who reappraises his life after a near-death experience, swept the awards at JFF in 2015. Ronen Ben Tal at Tel Aviv's Plan B Productions is producing with the backing of United King Films.
Buzzy rising director Moshe Rosenthal won the Wouter Barendrecht-Lia van Leer Award of $4,600 (€4,000) for his upcoming feature Karaoke about a nondescript, middle-aged couple who become obsessed with a glamorous, former model agent who moves into their apartment building.
It is produced by Efrat Cohen at Gaudeamus Productions, which was set up by Tel Aviv University's Steve Tisch School of Film and Television some two years ago to help its alumni make their first films.
Rosenthal, who is tipped as one of Israel's most promising directing talents, created the web-series Confess, exploring the intricacies of dating in the digital age, which was picked by AMC Network for a remake by Julie Delpy.
He is also developing a second feature called Independence which recently won the jury award at the 2018 Sam Spiegel Jerusalem Film Lab.
Adam Kalderon's The Swimmer – set against the backdrop of the elite competitive swimming world – won the DB & OPUS Award worth $15,000 (ILS55,000). It is produced by Naama Pyritz of Ingenue Productions.
The project, drawing on Kalderon's own teenage experiences in an elite swimming programme, will be his second feature after the 2014 Marzipan Flowers, about the unexpected friendship between a recently widowed woman and a transwoman.
The $17,400 (€15,000) Cinelab Award went to Oren Gerner's debut feature Africa about a retired engineer who retreats into the memories of a trip to Africa with his wife.
Gerner was at Cannes this year with his France-set short Gabriel, about a teenager who breaks away from the search for a lost classmate in a mysterious forest, which was produced by Paris-based Why Not Productions.
A total of 10 projects at the development stage and six films in post-production were presented at the Pitch Point event this year. The awards jury consisted of Films Boutique acquisition chief Gabor Greiner, Paris-based Croatian producer Cedomir Kolar, Kirsten Niehuus, managing director of the film funding department of Medienboard Berlin-Brandenburg, Dominique Welinski from DW, and Tamara Tatishvili from Eurimages.
Other future features unveiled at the event included Shira Geffen's coming of age drama A Responsible Adult, Tawfik Abu Wael's cross-culture tale Children Of The Railway, Asaf Saban's The Delegation, set against the backdrop of a school trip to Holocaust sites in Poland, and Eti Tsicko's investigative Georgia-set As If You Were Never Here.