A total of 11 projects were presented at the closing pitching event of fifth edition.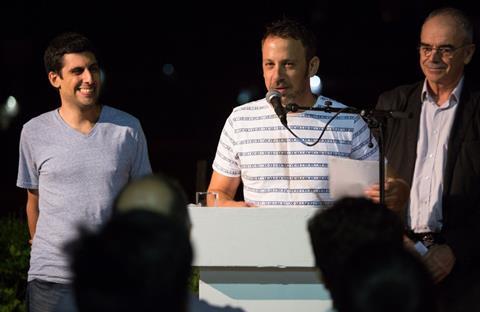 Israeli director Yona Rozenkier and producer Kobi Mizrahi have clinched the $50,000 top prize at the final pitching event of the fifth Sam Spiegel International Film Lab for their road-trip tale of an elderly father and son, Decompression.
Described as "a sad, late coming-of-age comedy", it revolves around a journey from the north to the south of Israel on a tractor by 35-year-old Ben and his truculent, larger-than-life father.
"The jury was impressed by the genuine and emotional father-and-son story from north of Israel to south," said jury president Slawomir Idzak. "The mix between drama and humour is very well balanced. The very visual metaphoric ending is so powerful, you will not forget it."
Argentinian film-maker Gonzalo Tobal took the second prize of $20,000 for Dolores, a psychological drama about a young woman from a comfortable background awaiting trial on charges of killing her best friend. Benjamin Domenech of Rei Cine is producing.
A special mention went to Margarita Linton-Balaklav's deeply personal Life Is Anywhere Else, based on her upbringing on a settlement in the heart of the Palestinian territories.
A total of 11 projects were presented at the pitching event running July 8-9 on the fringes of Jerusalem Film Festival.
The annual event marks the final stage of the prestigious seven-month programme aimed at developing first and second features.
The prizes were sponsored by the philanthropic Beracha Foundation.
Other members of the jury comprised Celluloid Dreams founding director Hengameh Panahi, Cannes Critics' Week artistic director Charles Tesson, Medienboard Berlin-Brandenburg general director Kirsten Niehuus, Israel Film Fund director Katriel Schory, Pyramide Films president Eric Lagesse, Haut et Court co-founder Carole Scotta and Eurimages executive director Roberto Olla.