Jean-Pierre Jeunet's The Young and Prodigious Spivet will be the opening film at this year's Filmfest München (June 27-July 5) after Jeunet previously kicked off the festival in Munich in 2001 with Amelie From Montmartre.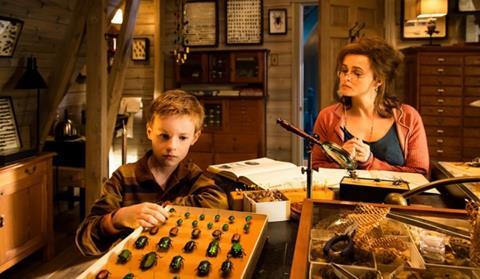 Special highlights at what will be Diana Iljine's fourth outing as festival director include the first ever complete retrospective dedicated to the veteran US director Walter Hill, a gala evening in honour of the Oscar-winning producer Arthur Cohn with a screening of The Children Of Huang Shi, and a tribute to the producer-director-cinematographer Willy Bogner.
The Walter Hill retrospective will range from his 1975 debut Hard Times, starring Charles Bronson and James Coburn, through such classics as The Long Riders and The Warriors and two films made for US television - the pilot Deadwood and the Western epic Broken Trail - to his 2012 film Bullet To The Head, with Sylvester Stallone and Christian Slater.
World premieres
Munich will also be hosting a number of world premieres in its various sidebars, including Thomas Heinemann's Lola On The Pea in the Kinderfilmfest as well as Christian Schwochow's Bornholmer Straße - with a different take on the events of November 9, 1989 in Berlin -, Michael Verhoeven's Let's Go, based on the autobiographical novel by Laura Waco, and Christian Röhl's drama Die Auserwählten, inspired by the shocking true events of sex abuse at the Odenwaldschule boarding school in the TV movies section.
The New German Cinema sidebar, which launched the careers of such films as Oh Boy and Love Steaks in the last couple of years, has a line-up of films covering subjects as diverse as breakdancing in former East Germany, the reaction of her family and society when an 18-year-old girl with Down Syndrome becomes pregnant, and the all-pervasive corruption and moral dilemmas faced by the officers in an undercover police unit.
The section's world premieres will include new feature films by Sylke Enders (Schönefeld Boulevard), Jan Martin Scharf (Dessau Dancers), Christina Schiewe (Be My Baby), Vanessa Jopp (Lügen), Philipp Leinemann (Wir waren Könige) and Franz Müller (Worst Case Scenario) as well as documentaries by Severin Vinzenburg (Good Luck Finding Yourself) and Elkan Spiller (L'Chaim - Auf das Leben).
In addition, the sidebar will present the German premieres of Doris Dörrie's documentary Dieses schöne Scheissleben about young and old women in Mexico making their mark in the macho Mariachi scene, and Ralf Westhoff's new comedy Wir sind die Neuen, with Gisela Schneeberger and Heiner Lauterbach.
The Filmfest's complete programme can be found at www.filmfest-muenchen.de.