Altitude Film Distribution acquires family animation Rock Dog featuring J.K. Simmons, Luke Wilson and Eddie Izzard.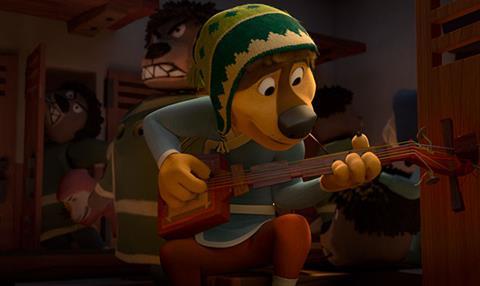 Altitude Film Distribution has acquired UK rights to family animation Rock Dog, which had its European premiere at the recent BFI London Film Festival. The film features a voice cast including J.K. Simmons, Luke Wilson, Eddie Izzard and Sam Elliot.
Co-founder and CEO of Altitude Film Entertainment Will Clarke commented, "Following the great response to the film at the BFI London Film Festival, we're looking forward to introducing this to a wider UK audience." The film marks Altitude's first theatrical animation acquistion.
Ralph Kamp, chairman and CEO of the film's sales agent Timeless Films, commented, "From the very first screening, [Altitude's] enthusiasm and passion for the film made it clear to us they would be the perfect distribution partner. We hope the film will become a big success in the UK and look forward to the release next year."
Based on a graphic novel by Chinese rockstar Zheng Jun, Rock Dog tells the story of Bodi, a Tibetan Mastiff expected to become the next village guard to a group of sheep, but fears he doesn't have the passion to assume the role from his dad.
When a radio falls out of the sky and Bodi hears a rock song, he leaves home to chase his musical destiny in the big city. However, when he attracts the attention of a hungry wolf, Bodi must save his family and friends without giving up his newfound dream.
Rock Dog is directed by Ash Brannon, the Oscar-nominated director of Surf's Up and co-director of Toy Story 2. The film is produced by Amber Wang, Joyce Lou, David B. Miller, Rob Feng, and Zheng Jun.
New features recently slated by Altitude for UK release include the Samuel L. Jackson narrated documentary I Am Not Your Negro, theatre director William Oldroyd's Lady Macbeth, Sundance and Toronto festival hit The Eagle Huntress, and Berlin award-winning shorts director Peter Mackie Burns' Daphne.