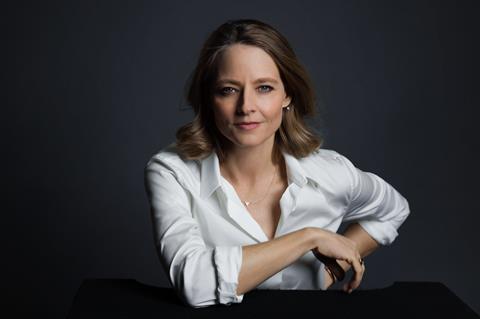 Oscar-winning actress, director and producer Jodie Foster will be feted with an honorary Palme d'Or at the opening ceremony of the 74th edition of the Cannes Film Festival (July 6-17).
Past recipients include Jeanne Moreau, Bernardo Bertolucci, Jane Fonda, Jean-Paul Belmondo, Manoel de Oliveira, Jean-Pierre Léaud, Agnès Varda and Alain Delon.
Foster has a long history with the festival. Seven films she has acted in or directed have played in the festival, kicking off with Martin Scorsese's Alice Doesn't Live Here Anymore, which debuted in Competition in 1975.
Her first attendance was in 1976 at age of 13-years-old with Scorsese's Taxi Driver, which debuted in Competition and won the Palme d'Or. That same year another of her early credits, Bugsy Malone also played in Competition.
Two of her directorial credits, The Beaver and Money Monster, also debuted in the festival Out of Competition in 2011 and 2016 respectively.
"Cannes is a festival to which I owe so much, it has completely changed my life," said Foster. "Although I had already directed before, my first time on the Croisette was a defining moment for me. Showcasing one of my films here has always been a dream of mine."
As part of the honour, Foster will give a masterclass about her career during the festival.
"I am flattered that Cannes thought of me and I am very honoured to be able to share a few words of wisdom or tell an adventure or two with a new generation of filmmakers."
"Jodie never ceases to reinvent herself," said Cannes general delegate Thierry Frémaux. "She questions with her piercing gaze, learns from others, and is willing to step back from her beliefs in order to forge new morals. Do what is fair. An idea that she strives to convey in the decisions she makes as an actress and director, and which makes her so precious during these confusing times. we will honour her with warmth and admiration."
The festival also praised Foster's commitment to increasing gender parity and female representation in the film industry, which has seen her participate in the 2016 edition of the Women in Motion conference in Cannes and get behind Be Natural: The Untold Story of Alice Guy-Blaché by Pamela B. Green. Foster was an ambassador and narrator for the documentary dedicated to the pioneering but long-forgotten filmmaker Alice Guy-Blaché.