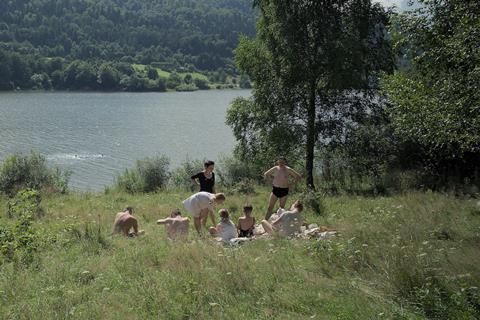 A24 has closed a string of major territory deals for Jonathan Glazer's The Zone Of Interest following its well-received world premiere in Competition at Cannes last week.
The Holocaust drama has sold to Austria and Germany (Leonine), Benelux (Cineart), France (BAC), Greece (Spentzos), Italy (I Wonder), Japan (Happinet Phantom Studios), Scandinavia (SF Studios), Spain (Elastica) and Switzerland (Filmcoopi).
Gutek also plans to release the movie in Poland, where The Zone of Interest was filmed.
A24 is handling the release of the film in the US.
The Zone Of Interest centres on the commandant of Auschwitz, Rudolf Höss, and his wife Hedwig, who strive to build a dream life for their family in a house and garden next to the camp.
It received strong reviews and word of mouth after its Cannes debut and has emerged as a likely awards contender both at the festival and for 2024 awards season.
Screen's review called it "a serious, daring, and artistically innovative a response to the Shoah."
Reviewer Jonathan Romney said its portrait of Nazi domesticity in the shadow of the Auschwitz chimneys "is executed with an objective, chilly control that eschews false rhetoric, leaving maximum space for the audience's imaginative and emotional response."
The Zone Of Interest is written and directed the UK's Glazer and based on the novel by Martin Amis. It stars Christian Friedel and Sandra Hüller and is produced by James Wilson and Ewa Puszcyńska. Backing came from Film4, A24 and Access Entertainment.