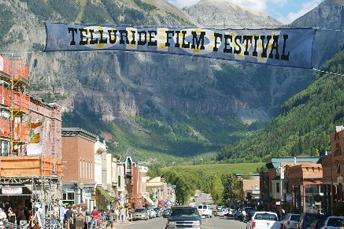 Telluride Film Festival presented by National Film Preserve LTD announced on Friday (June 15) that novellist Jonathan Lethem will be the festival's 2018 guest director.
Lethem will select a series of films to present at the 45th Telluride Film Festival that runs over Labor Day Weekend from August 31-September 3.
In keeping with Telluride Film Festival tradition, the festival will attempt to keep secret Lethem's film selections, along with the rest of its line-up, until opening day.
"Tom and I first met Jonathan through Criterion Collection," Telluride Film Festival executive director Julie Huntsinger said. "Since then, we have forever been impressed with his knowledge of and enthusiasm for cinema. We are thrilled to have him join us for the 2018 Festival!"
Lethem broke out with Motherless Brooklyn in 1999. Ed Norton is directing an adaptation of the crime noir featuring a Tourettic detective starring Bruce Willis, Alec Baldwin, Willem Dafoe and Leslie Mann.
The film is currently back in production after a fire on the New York set resulted in the death of a firefighter earlier this year, and is earmarked for release in 2019.
Past guest directors include Joshua Oppenheimer, Volker Schlöndorff, Rachel Kushner, Guy Maddin, Alexander Payne, Salman Rushdie, Peter Bogdanovich, Peter Sellars, Don DeLillo and Slavoj Žižek.