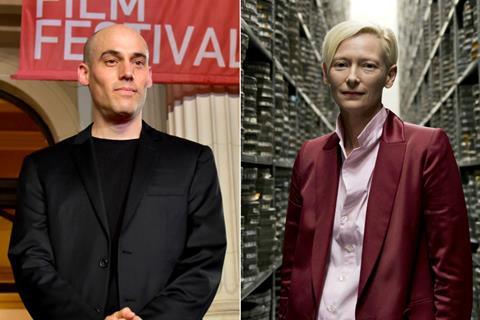 Joshua Oppenheimer's upcoming musical The End starring Tilda Swinton is one of 23 features to receive a share of €5.5m ($6.1m) in the latest round of Eurimages co-production support funding.
The film, a co-production between Denmark, Germany and Ireland, receives €480,000 ($534,000) – the largest of the 23 awards in this selection.
Scroll down for the full list of titles
The End stars George MacKay and Stephen Graham alongside Swinton in the musical about the last human family. Neon has acquired North America rights.
The Empire, the latest film from French director Bruno Dumont, receives €450,000 ($500,000). The sci-fi feature stars Virginie Efira, Lily-Rose Depp, Adele Haenel and Fabrice Luchini, and began filming in January.
Set on France's northern Opal Coast, the film centres on a fishing village that is visited by extra-terrestrial knights. It is a co-production between France, Germany, Italy and Belgium.
Jorgen Lerdam and Kari Juusonen's Finland-Germany-Ireland-Denmark co-production Niko – Beyond The Northern Lights receives €470,000 ($523,000). The animated feature is the third instalment of the Niko franchise, and sees a young reindeer boy compete for a spot in Santa's reindeer squad. It is the only animation in the selection, alongside seven documentaries.
Some 52.2% of the projects are to be directed by women, up from 34.4% of the submissions.
The Eurimages Executive Committee decided the awards via an online meeting, at which they also chose to grant the fund's patronage to the Documentary Association of Europe for the publication of a new financing guide for the documentary sector, including a co-production guide.
Eurimages Co-production Support 2022 funding
Arsenie. An Amazing Afterlife (Rom-Lux) dir. Alexandru Solomon, €59,000 – documentary
Consent (Fr-Bel) dir. Vanessa Filho, €340,000
Ebba (Nor-Fr-Swe) dir. Johanna Pyykko, €300,000
End Of The World (Cze-Slovakia) dir. Ivan Zacharias, €276,000
Even Among The Ruins (Fr-Bel) dir. Yolande Moreau, €400,000
Excursion (Bos/Her-Cro-Nor-Ser) dir. Una Gunjak, €119,000
Human/Animal (Sp-It-Mex) dir. Alessandro Pugno, €283,000
Lotus (Lat-Lith) dir. Signe Birkova, €100,000
Lust (Bul-Den-Swe) dir. Ralitza Petrova, €182,000
Motherland (Swe-Ukr-Nor) dirs. Alexander Mihalkovich, Hanna Badziaka, €110,000 – documentary
My Land My Strength (Por-Fr-Uru) dir. Paulo Carneiro, €49,000 – documentary
Niko – Beyond The Northern Lights (Fin-Ger-Ire-Den) dirs. Jorgen Lerdam, Kari Juusonen, €470,000 – animation
Not A Word (Ger-Slovenia-Fr) dir. Hanna A Slak, €295,000
Read My Breasts (Austria-Sp) dir. Anja Salomonowitz, €105,000 - documentary
Sisters (Swe) dir. Mika Gustafson, €370,000
The Empire (Fr-Ger-It-Bel) dir. Bruno Dumont, €450,000
The End (Den-Ger-Ire) dir. Joshua Oppenheimer, €480,000
The Falling Star (Bel-Fr) dirs. Dominique Abel, Fiona Gordon, €330,000
The Forgotten History (Sp-Neth-Fr) dir. Roya Sadat, €400,000
The Mechanics Of Things (Fr-Ger) dir. Alessandra Celesia, €110,000 - documentary
The Radical Self (Ger-Swi) dir. Johann Feindt, €123,000 - documentary
Things That You Kill (Fr-Pol-Can) dir. Alireza Khatami, €105,000
Toxic Sicily (Fr-It) dir. Francois-Xavier Destors, €60,000 - documentary