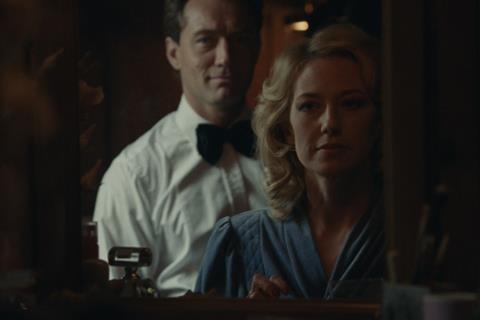 IFC Films has picked up US rights to Sean Durkin's Sundance world premiere The Nest starring Jude Law as a British entrepreneur whose dream life spirals out of control.
Carrie Coon (Leftovers, Gone Girl), Charlie Shotwell (Troop Zero), and Oona Roche (The Morning Show) round out the key cast on Durkin's first film in eight years since his acclaimed drama Martha Marcy May Marlene.
Ed Guiney, Derrin Schlesinger, Rose Garnett, Sean Durkin, Amy Jackson, and Christina Piovesan produced, and Andrew Lowe, Polly Stokes, Law, Ben Browning, Glen Basner, Alison Cohen, and Milan Popelka served as executive producers.
The Nest was developed by BBC Films and financed by FilmNation Entertainment and BBC Films with further backing from Telefilm Canada.
IFC Films will release The Nest this autumn and FilmNation handles international sales.
When Rory (Law) relocates his wife Allison (Coon) and their children Sam and Ben from suburban America to his native England with ambitious dreams of profiting from booming the 1980's boom in London, the family is forced to confront unsettling reality.
IFC Films executive vice-president of acquisitions and productions Arianna Bocco and head of business & legal affairs Betsy Rodgers brokered the deal with UTA Independent Film Group on behalf of FilmNation Entertainment and the filmmakers.