EXCLUSIVE: Lionsgate's Stephen Chbosky-directed drama will screen in Rome's youth-oriented Alice In The City strand.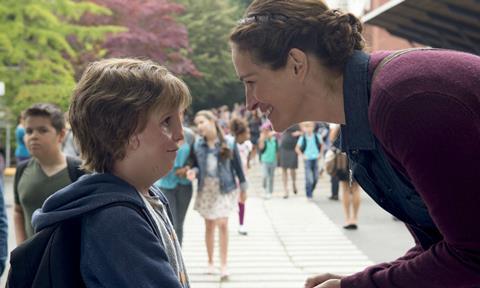 Julia Roberts-Jacob Tremblay drama Wonder will get a special screening at the Rome Film Festival's autonomous sidebar Alice In The City on November 3.
The screening, the film's first at a festival, will be for students and teachers but not for press and no talent will be present.
Directed by Stephen Chbosky (The Perks Of Being A Wallflower) and inspired by R. J. Palacio's book of the same name, Wonder charts the story of a young boy - August Pullman - with a facial deformity who enters fifth grade, attending a mainstream elementary school for the first time.
By the time he's 10, August has had 27 surgeries to help him breathe, see, and hear without a hearing aid.
Room star Tremblay features in the lead role alongside Roberts, Owen Wilson, Sonia Braga and Mandy Patinkin.
Script comes from Chbosky, Jack Thorne and Steve Conrad. Producers are David Hoberman and Todd Lieberman. Executive Producers are Jeff Skoll, Robert Kessel, Michael Beugg, R.J. Palacio and Alexander Young.
The Mandeville Films/Lionsgate production will hit theaters from November 17, 2017, with Lionsgate presenting in association with Walden Media and Participant Media.
Alice In The City, which screens films with a strong youth angle, runs October 26 - November 5. Previous films to show in the section include Planes, Nocturama and Captain Fantastic.
Named after the 1974 Wim Wenders movie Alice In The Cities, the strand directed by Gianluca Giannelli and Fabia Bettini has earned growing praise from critics and audiences since it was launched 15 years ago.
Movies in the section screen at the same venues as those used for the main festival.