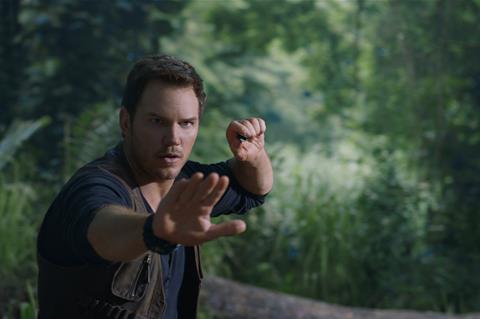 Universal
Jurassic World: Fallen Kingdom stormed out of the gates this weekend with a £14.3m opening, including £3.7m in previews.
The film dominated the Friday-Sunday period with a hefty £10.6m, almost 10 times the figure of the film second in this week's chart (Solo: A Star Wars Story), despite the good weather across the UK.
It posted a site average of £15,988.from 663 sites.
Jurassic World: Fallen Kingdom is the second highest Friday-Sunday opener of the year to date, behind Avengers: Infinity War on £23.1m (£29.4m with previews), and ahead of Marvel's Black Panther (£10.5m). Black Panther had an official opening of £17.7m from six days.
However the film opened below its predecessor Jurassic World, which grossed £16.8m on its opening weekend (£19.35m with previews).
Disney
Despite signs of recovery in its second week, Solo: A Star Wars Story dropped a hefty 62% this weekend, adding just £1.2m for a disappointing £16.4m to date.
Avengers: Infinity War was fifth in the chart this week, adding £406,000 for an impressive cume of £69.6m.
20th Century Fox
Deadpool 2 dropped to third in the chart, adding £1.2m for a total gross of £29m to date.
Paramount
In its second week, Book Club posted a good hold, dropping just 26% and moving up one place in the chart to fourth. The film added £507,000 and now sits on £2m.
Sherlock Gnomes added £300,000 for £7.58m to date.
eOne
Show Dogs is up to £2.5m after adding £200,659 this weekend.
Lionsgate
McQueen, the feature documentary about UK fashion icon Alexander McQueen, opened to a strong £131,202 from 64 cinemas, a site average of £2,050. The film looks set to expand into further sites this coming weekend.
On Chesil Beach is up to £785,025 after adding £49,621 this weekend.
STXinternational
I Feel Pretty has moved to £5.2m with a further £95,649 this weekend.
Curzon Artificial Eye
L'Amant Double added £22,337 this weekend for a £105,776 total gross.
Altitude
My Friend Dahmer added £13,533 from 34 sites for a cume total of £69,848, while US romantic comedy The Boy Downstairs grossed just £6,180 from 24 sites in its opening three-day weekend for a £258 site average. It has grossed £12,823, including previews.