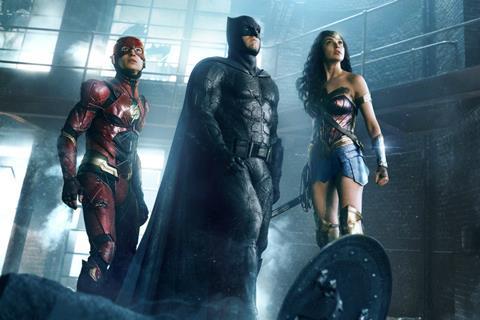 UPDATED NOVEMBER 17: Justice League launched in an additional 38 markets on Thursday, grossing $18m for the day on approximately 22,300 screens, lifting the international total to $27.3m after two days.
Zack Snyder's tentpole has earned $6.3m in Asia so far, $3.5m in Latin American regions, where we it is outgrossing Wonder Woman and Thor: Ragnarok in a majority of markets, and achieving Warner Bros. box office milestones.
China produced $1.3m (RmB 8.8m) from midnight sneaks on Thursday, ranking as the biggest midnight grosser among the many superhero films released in 2017, and on par with Batman V Superman sneaks. Warner Bros executives estimate Friday results of $15.1m (RmB 100m). These early results rank Justice League as the second-biggest Warner Bros. opening day ever behind BVS and on par with Thor: Ragnarok. The running total in China is $16.4m.
The film debuted in Australia on $1.3m for the biggest opening day for a Warner Bros. film in 2017, and have surpassed the opening day of Wonder Woman by 51% and on par with Thor: Ragnarok.
Russia $1.3m, exceeding the Thursday opening day grosses for Wonder Woman by 49% and Thor: Ragnarok by 33%. Following Wednesday's sneaks, South Korea generated $1.1m for a $2.3m running total. Elsewhere, the Philippines produced $1.1m, making it the biggest industry opening day for 2017, and surpassing Thor: Ragnarok by 79% and Wonder Woman by 19%.
The film debuted in the UAE on $701,000 ranking as the second-biggest opening day for a WB film ever behind Batman V Superman and ahead of the opening day of Wonder Woman by 64% and Thor: Ragnarok by 2%. Justice League has grossed $760,000 in Taiwan, $737,000 in Germany, and $530,000 in Italy. On its second day of release, Brazil generated $1.4m, Indonesia produced $755,000, while France produced $578,000.
The film opens in another 18 markets today, including Spain, UK, China and Mexico.
NOVEMBER 16 REPORT: Justice League grossed an estimated $8.5m on Wednesday, its first day of release, in nine overseas markets, as well as select preview markets. The film played on close to 6,000 screens.
Zack Snyder's tentpole opened in Brazil on a non-traditional Wednesday, taking advantage of the Republic Day holiday, grossing $3.7m on 1,509 screens. The film had a 74% box office share of the top five films, and became the biggest industry opening day of all time in that market. The film was also the industry's widest release ever in Brazil.
Previews in South Korea produced $1.1m on 1,195 screens. Even with half-day shows and a 5.4 magnitude earthquake in the south, the film ranked number one. Warner Bros executives report that Justice League came in roughly on par with Wonder Woman results, which had a full day of screenings compared to the previews for Justice League.
France delivered a confirmed $1.1m and 130,000 admissions on 687 screens. Opening in a non-holiday corridor, the results are 19% ahead of Wonder Woman.
Elsewhere, Indonesia produced $895,000 on 888 screens, exceeding Thor: Ragnarok by 8% and coming in as the highest opening day for a Warner Bros film ever, including all DC titles.
Ben Affleck, Henry Cavill, Amy Adams, Gal Gadot, Ezra Miller, Jason Momoa, and Ray Fisher star as the title group.
Geostorm has reached $170.4m at the international box office. Meanwhile, Horror It has grossed $358.5m internationaly, while The LEGO Ninjago Movie stands at $62.9m and has no new openings.
Marvel's Thor: Ragnarok stands at $462.7m internationally through Walt Disney Studios Motion Pictures International. Taika Waititi's tentpole will likely cross the $700m worldwide mark before the weekend is over. The film currently stands at $685.9m, with $223.2m coming from North America. The film starring Chris Hemsworth, Tom Hiddleston, Mark Ruffalo, Cate Blachett, Idris Elba, and Tessa Thompson has opened everywhere.
Disney and Pixar's Coco became the all-time Mexican box office champion on Wednesday, crossing $43m (827m pesos) to overtake The Avengers after less than three weeks in release. Lee Unkrich directed, with co-director Adrian Molina, the Day Of The Dead story that features the voice talents of Anthony Gonzalez, Gael García Bernal, and Benjamin Bratt. Coco opens in North America on November 22, and in China on November 23. Cars 3 stands at $300m and has opened in all its markets.
Fox International's Murder On The Orient Express chugs into the weekend on $68.8m. Kenneth Branagh directed and stars in the adaptation of Agatha Christie's whodunnit novel. Penélope Cruz, Willem Dafoe, Judi Dench, Johnny Depp, Josh Gad, Leslie Odom, Jr, Michelle Pfeiffer, and Daisy Ridley also star.
Kingsman: The Golden Circle edges closer to the $300m international mark. Matthew Vaughn's sequel has reached $293.6m internationally, with no new openings until January. Survival drama The Mountain Between Us, starring Idris Elba and Kate Winslet, stands at $22.8m as it heads into Vietnam. There are 20 territories yet to release.
Universal Pictures International's Happy Death Day debuts in France, Germany, and two other territories this week. Christopher Landon's horror currently stands at $35.9m. Michael Fassbender crime drama The Snowman has reached $30.1m and will open in Belgium this weekend.
Universal will release David Lowery's A Ghost Story in Hong Kong. Casey Affleck, Rooney Mara, and McColm Cephas Jr star. Elsewhere, Historical drama Victoria And Abdul has reached $39.1m as it prepares to debut in Brazil, Colombia, and Ecuador.
Paramount Pictures International's animation Tadeo Jones 2 has reached $21.7m, while the Will Ferrell, Mark Wahlberg, Mel Gibson, and John Lithgow comedy sequel Daddy's Home 2 has grossed $572,000 early in its international release.